Applegate Naturals Reduced Sodium Bacon made from humanely raised pork, without antibiotics or hormones and with 25% less sodium than the traditional Sunday Bacon is available nationwide. The original Sunday Bacon contains 290 milligrams of sodium, this reduced sodium version contains 200.
Each 2-pan fried slice contains 60 calories, 2 grams saturated fat (of 5 grams total), 200 milligrams sodium (and 4 grams protein.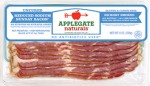 – bonnie: I'd recommend these paper-thin, low-sodium slices of bacon for anyone who needs to keep an eye on their salt intake. Amazingly good for a low-sodium product.