FEATURED BITE
August 21, 2012
What it is: Rosé from Southern Rhône Valley
How it comes: 750 ml bottle
Where it is: Nationwide
Who it's for: Wine lovers
Suggested retail price: $13.99
Nutrition notes: NA
Category: Beverage


---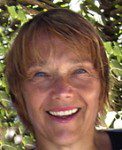 Bonnie: Okay, I'll admit it: I was a snob when it came to pink libations. I just couldn't imagine drinking any bright, blushing wines. That pale red liquid made me think of (gulp) white zinfandel, which I find sickly sweet. Undrinkable.
One day many years ago, my so-cosmopolitan friends Priscilla and Charlie served me a rosé for lunch at their home. That crisp and refreshing rosé reversed my opinion about the French pink wine, although the rosé they served was unavailable to consumers. It was only accessible to restaurants, as was the luscious 14 Hands Cabernet Sauvignon until recently.
Then earlier this year, I attended "Blending With Pleasure" led by Winemaker Pierre-Jean Sauvion, from the Loire Valley's Sauvion House. Its Rosé D'Anjou reawakened my appreciation for the wine. So I reached out to the publicist and our team then sampled a number of their wines. We tried Chateau Bonnet Rosé, yellow tail bubbles rosé and the Vidal-Fleury Côtes du Rhône Rosé featured here, which was the one that originally piqued my interest.
We all agreed that the Vidal-Fleury Côtes du Rhône Rosé was this portfolio's best. It's a creamy caramel-like, not-too-sweet wine, with a mineral finish. This rosé is perfect for your Labor Day gathering, especially if the temperature is warm, as it's been all summer. Just serve it simply as an aperitif, or pair it with your grilled BBQ ribs, salade Niçoise, glazed salmon, Pad Thai or many summery foods.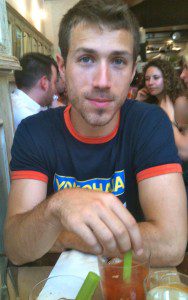 Bryan: I'm a wine lover, but not a rosé aficionado (to say the least). I don't dislike rosé wine per se; it's just rarely the first thing I'd order off a wine list. That being said, I do know that a nicely chilled bottle of quality rosé can do the trick on a hot summer day. I've even discovered that a bad bottle of rosé still has its uses, making decent sangria when mixed with some soda for a thirst-quenching change of pace.
When Bonnie said we were tasting a rosé, I was eager, as this was a French rosé, and one from an actual appellation. As such, I expected to enjoy by just quaffing away and could thankfully leave the Sprite for BBQs with $3 sangria mixes. I was further excited because the wine hails from the Côtes du Rhône region, historically one of my favorite wine regions. Côtes du Rhône (literally translated as "Slopes of the Rhone") is a wine-growing area tracing the curves of the Rhone River through eastern France. Côtes du Rhône wines come in red, white and rosé varieties. Unlike many French wines, these wines are generally not single varietals, but wonderful blends of a few dominant local grapes and a plethora of minor characters. The reds are usually based on grenache or syrah while white wines center on grenache blanc, marsanne, roussanne and viognier.
My all-time favorite wine is actually from the Rhône. Côte-rotie (roasted hill) is an appellation in the northern Rhône region. The vineyards are located on very steep slopes facing the river, allowing for looong hours of sunlight, which develops extra sugar production for the grapes (bold, balanced wine). Côte-rotie is a unique wine. The end product is red, made with syrah, but also can contain up to 20 percent viognier, a white grape known for its intoxicating floral aromas. The resulting wine exhibits an almost paradoxical juxtaposition of hearty, red-meat and tobacco flavors. with an elegant, floral nose as well.
Vidal-Fleury Côtes du Rhône rosé is a grape combination I'd not tried before. As there are more than 20 different approved grapes in this abundant wine region, the combinations and permutations of varietals for aspiring and traditional winemakers are aplenty. This selection contains 50 percent cinsault, 30 percent syrah and 20 percent grenache; that's a 50/50 red to white split for everyone keeping score at home. Sounds about like a rosé to me! The result, a wonderfully light wine, perfect as an aperitif or summer cocktail. Get past your hang-up on the pinkness, and what you're really holding is a much bolder white wine with some color. Rosé yourself with Vidal-Fleury this summer and you will be surprised, but you won't be sorry.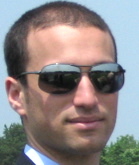 Eric:I've recently realized that my world of libations consists of three W's: water, whiskey and wine. Of the three, my family would be proud that I at least regard water as the highest on the totem pole.
Over the past two years, though, my appreciation for wine has grown exponentially with my love and appreciation for my girlfriend, an oenophile and lead sommelier. We are both strong advocates of education as paramount to appreciation; simply stated, the more you comprehend, the more you enjoy.
This philosophy lends itself to our comparison taste test of the rosé wines. But first, an analogy: Prunes are to California dried plums as blush wines are to rosé wines; they are one-in-all the same. However, the newer breeds of rosés are steering away from the traditional zinfandel grape and instead taking influences from cabernet franc, pinot noir, grenache, cinsault, mourvèdre and even malbec grape varietals. These influences, are creating rosés that are light, crisp and refreshing like a white wine, but retain some red and dark fruity flavors, blending to a rustic palate. Just like any style of wine, rosés can drastically vary with different impressions of lush cherries, berries, watermelon and candied flavors.
When it comes to the enjoyment of wine, there is no right or wrong for a discriminating palate; there is only what you enjoy. My taste buds prefer a lighter drier rosé wine, not a residual sugar powerhouse, and for that reason I enjoyed the Vidal-Fleury Côtes du Rhône Rosé.
Rate This Product
Mouseover the crowns to highlight your rating and then click to record your rating. The rating shown is the average of all the user votes. You can only rate each product once.
Leave a Comment or Write a Review
Posting Policy
Bite of the Best encourages our readers to comment on and review any products that we write about. Please express your opinions in a mature and civil tone of voice. We will not post rude or otherwise inappropriate material on Bite of the Best. We look forward to your comments and reviews!