Retail stores in New York, California and Arizona and online at the BiteoftheBest.com <a href="http://www.biteofthebest.com/shop.php?i=B00F5B9FMI" target="_blank">shop</a>
$40 per 8.5 fl.oz Bottle
MiaBella Traditional Balsamic Vinegar is made with 100% Trebbiano grapes grown in Modena, Italy.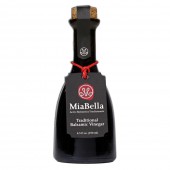 It contains no added artificial flavors, colors or preservatives. Use it with fruit, salads, and vanilla ice-cream.