December 2, 2012
Varieties: Sour Cream & Onion, Cheddar & Roasted Tomato
Details: $3.39 per 4-ounce bag
Availability: at select grocery, mass merchandiser and natural food stores nationwide, and online

Kettle Brand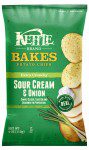 Bakes adds two new flavors, Sour Cream & Onion and Cheddar & Toasted Tomato, to their already existing line.
Each 1-ounce serving of about 20 chips contains 120 calories, 0-0.5 grams saturated fat (of 3-3.5 grams total fat), 135-160 milligrams sodium, 0-1 grams sugar and 2-3 grams protein.
- Alyssa Tucker, Bite of the Best Intern:The Sour Cream & Onion chips are  packed with actual potato flavor  and are crunchy, without they airy texture of  other baked chips. Plus, the chips don't leave your hands greasy.
Leave a Comment or Write a Review
Posting Policy
Bite of the Best encourages our readers to comment on and review any products that we write about. Please express your opinions in a mature and civil tone of voice. We will not post rude or otherwise inappropriate material on Bite of the Best. We look forward to your comments and reviews!