I hope I never see it all… It's just such a pleasure to come across new things. The Charleston Cookie Company is a new thing to me, and it's a pleasure as well. Being that they're in my 'neighborhood'. I got very excited when I was recently introduced to their scrumptious holiday offerings, candy cane brownies accompanied by white chocolate cranberry cookies. There was an overwhelming array of sweets, so I needed help. Treats, to the office! My colleagues help comes easily when sweets are involved. Try a cookie I say.. It'll only cost you your opinion. I bring my research directly to the people!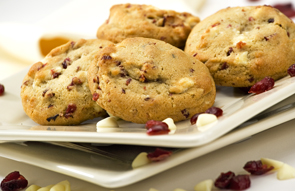 The cookies are quite good, but I must quote my colleague Michele, as her summation truly says it all: "The thought of white chocolate chunks and cranberry together was amusing, though I wasn't sold.  (Not a huge white chocolate fan).  However, the presentation of the homemade looking cookie was hard to resist and colors very festive for this time of year.  Ok, I'll bite!  Mmmmmm – glad I did!  Buttery, chewy yumminess.  Sweet and a smidge salty all at the same time.  Actually, the cookie was SO surprisingly good that I actually had to stop what I was doing, sit back, close my eyes and just chew.  Yeah – it was that good".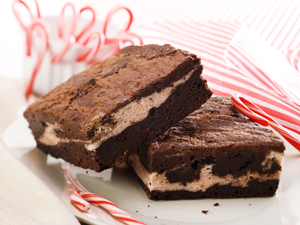 Though I had brought the cookies to the office to share, the brownies were for me! Hey, I don't mess around with chocolate. The Candy Cane Brownies are lip-smacklingly rich; a deep, dark chocolate mixture that's just a smidge of butter away from being a true fudge. A buttery icing atops, with just the right amount of candy cane peppermint flavor. Too rich for one sitting, a brownie lasted me three days, seriously… and they come in packs of four!  If you're interested, these hand-made treats are only available during the holiday season.
-bryan
The Charleston Cookie Company was conceived at Christmas in 2001 after as a quest to find the perfect chocolate chip cookie recipe.  The company's founder, Judith Moore, had tried all the printed recipes she could find before finally deciding to start from scratch, building her own recipe.