Walking into Yvonne's, you are first struck by the plain lobby with odd shampoo and conditioner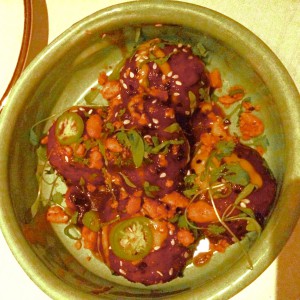 bottles lining a corner shelf and a white plywood door. The restaurant is no where to be seen. The hostess halts you and she calls someone to alert of your arrival, then opens the door and you're propelled into another world of gorgeous damask rose wallpaper, tear-dropped chandeliers, carved paneled walls, velvet nooks for whispering and high gloss mahogany bars. This isn't Locke Obers, the space that formerly hosted Brahmin powerbrokers, but a captivating dark speakeasy packed with the city's who's who.
We started with a light and delicious 1989 cocktail of Ketel One, lavender, Elderflower, celery juice and champagne cocktail ($12).
I recommend the shared Hamachi crudo ($14) served on stoneware plates, a dishware growing in popularity in Boston. The crudo was simply delicious. It's served on two pieces of toast with avocado, passion fruit brown butter, and grilled cashews that were cooked in pork grease.
My dinner companion raved that the crispy tater potato cubes ($12) were "little bricks of goodness." With its hint of cardamom, I thought they were perfect for breakfast, but the timing didn't matter as they disappeared from our dish. The 15 cubes were made of beet pickled egg, shredded gouda and Joppiesaus, a Dutch snack sauce usually consumed with fries.
Do try the chicken & quinoa meatballs with Chinese garlic sauce, spicy mayo, crunchy peanuts and jalapeno peppers ($12).
We had the lamb sausage stone fired pita, that is served like a pizza, topped with fennel pickled in harrisa, spicy tomato sauce, an abundance of feta cheese, and decorated with yogurt sauce ($16). It was excellent and perfect for sharing.
For a fun evening, visit Yvonne's for dinner.
Yvonne's
Downtown Crossing
3 Winter Place
Boston, MA 02108
617-267-0047

Save