Leading women of Italian wine gathered recently at Vinitaly's second annual grand tasting and fundraiser for the American Cancer Society in New York. The elite group of damas honored by Vinitaly included: Marilisa Allegrini, Allegrini (Veneto); Cristina Mariani-May, Castello Banfi and Banfi Vintners (Tuscany); Francesca Planeta, Planeta (Sicily); Elisabetta Geppetti, Fattoria Le Pupille (Tuscany), Camilla Lunelli, Ferrari (Trentino) and Daniela Mastroberardino, Terredora (Campania). Chef Odette Fada, who will oversee the kitchen at the new restaurant Rana, opening in Chelsea Market, prepared delectable dishes from the renowned Veronese pasta producer, Giovanni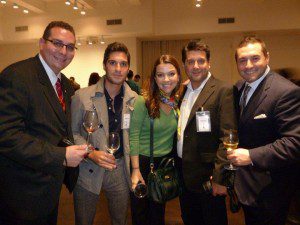 Rana.
"Our goal is simple: to unite the influential women in this industry for a great cause… Each said 'yes' without hesitation." said Stevie Kim, General Coordinator of Vinitaly International and Senior Advisor to Giovanni Mantovani, CEO of Veronafiere.
"Having lost far too many colleagues and family members to cancer, we feel a deeply personal motivation to support the American Cancer Society in meaningful ways," said Cristina Mariani-May, family proprietor and co-CEO of Banfi Vintners.
The evening raised close to $10,000 toward cancer research. The American Cancer  Society is the nation's largest non-governmental investor in cancer research, contributing more than $3.4 billion toward the fight against this disease which affects more than 11 million people in America. Veronafiere is the leading organizer of trade shows in Italy including Vinitaly, the largest wine fair in the world with over 4,000 exhibitors.
special correspondent Melanie Ransom