With a warm inviting fireplace and re-purposed wood from the Yale bowl, you know this ain't no McDonalds as soon as you walk into New Haven's newest restaurant…Shake Shack. It's open daily from 11:00am – 11:00pm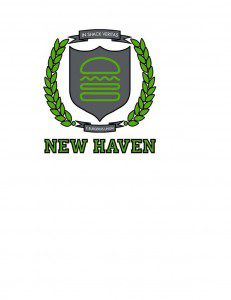 .
Owned by restaurateur Danny Meyer — of Gramarcy Tavern, The Modern and Union Square Café fame — the New York Shake Shack locations are known for their long lines to get made-to-order 100% all-natural Angus beef hamburgers ($4.75 and up), split and griddled hotdogs ($3 and up), fries ($2.70),frozen custards, vegan burgers and even gluten-free items. And, alcohol. Yes, alcohol — beer, hard cider and wine, under their own label.
The Shake Shake has embraced Yale with their logo design, plus with several menu items. There's Boola Boola Blue, (vanilla custard, blueberry jam, slice of lemon pie; $4.25 & $6.50)  Skull & Cones (chocolate and vanilla custard, shattered sugar cone, peanut butter sauce, chocolate truffle cookie dough, $4.25 & $6.50) and The Handsome Dog (a Vienna all-beef dog topped with Shack cheese sauce and crispy ShackMeister Ale marinated onions, $4).
Outdoor seating allows folks to bring their four-legged friends and buy them Shake Shack biscuits ($3.75 & $7.50) for the pooch! And, along with t-shirts, they also sell baby onesies for your two-legged friends too!
With Louis' Lunch – where the hamburger was said to be invented – right around the corner, they'll be plenty of burgers to go around!
– special correspondent Robbin Seipold
Shake Shack
986 Chapel St.,
New Haven
203-747-8483