If you are from Boston, Mark and Donnie Wahlberg are icons. They act, sing, model and now own a fleet of restaurants headed by younger brother Paul. The A&E reality show, The Wahlburgers has only added to the restaurant's popularity. I made a lunch date with a friend and together we rode the MBTA ferry to Hingham, a 40-minute ride across scenic
Boston Harbor.
Wahlburgers is a casual open kitchen concept with paneled wood, concrete floors, green walls and matching chairs. High above are soundproofing panels with Mark and Donnie's TV and movie name memorabilia.
The lure of burgers drew us inside but we were halted by a 2-hour wait for table service and the bar. The friendly staff directed us to the self-seati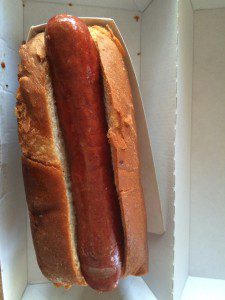 ng area so we ordered at the counter and settled in at a booth.
We started with the signature "Our" burger ($7.15), a delicious single patty medium-well 5-ounce cheeseburger with three dill pickles, thinly sliced onion rings, shredded lettuce, tomato, and Paul's Wahlberg special orange "Wahl" sauce, that is similar to a thousand island and McDonalds. The burger was perfect, full of flavor but not too juicy. The griddled bun was oversized. I also liked the Pearl all-natural beef hotdog ($4.25) that split with a snap, served in hot butter melted bun.
Skip the seasonal surf and turf specialty burger ($10.95) with lobster and burger meat, cheddar cheese, lettuce, lemon chive sauce, bacon and tomato. It was a hot, sliding mess and difficult to eat. Beneath the mushy bun was a spoonful of tasteless lobster. Do order the sweet potato tots ($3.35) that are addictive and crunchy with a moist sweet center. The regular potato tots ($3.35) were forgettable.
Despite the crowds and the Hollywood fame, at its heart Wahlburgers is a simple burger joint to visit.
Wahlburgers
19 Shipyard Drive
Hingham, MA 02043