(Written before COVID-19 quarantine) Hyun is an intimate, elegant Korean restaurant emphasizing barbecue with electric-grill tables for searing your Wagyu on cast iron on the edge of Koreatown.
I was invited by their publicist. Oddly, they told me exactly what I could have, so if this review seems to be about the same items that other bloggers have shared — that's why.
We were seated in our own private room with sliding slated doors so our server could see our progress. In the middle of the table was an induction burner that would be used to grill our Waygu beef.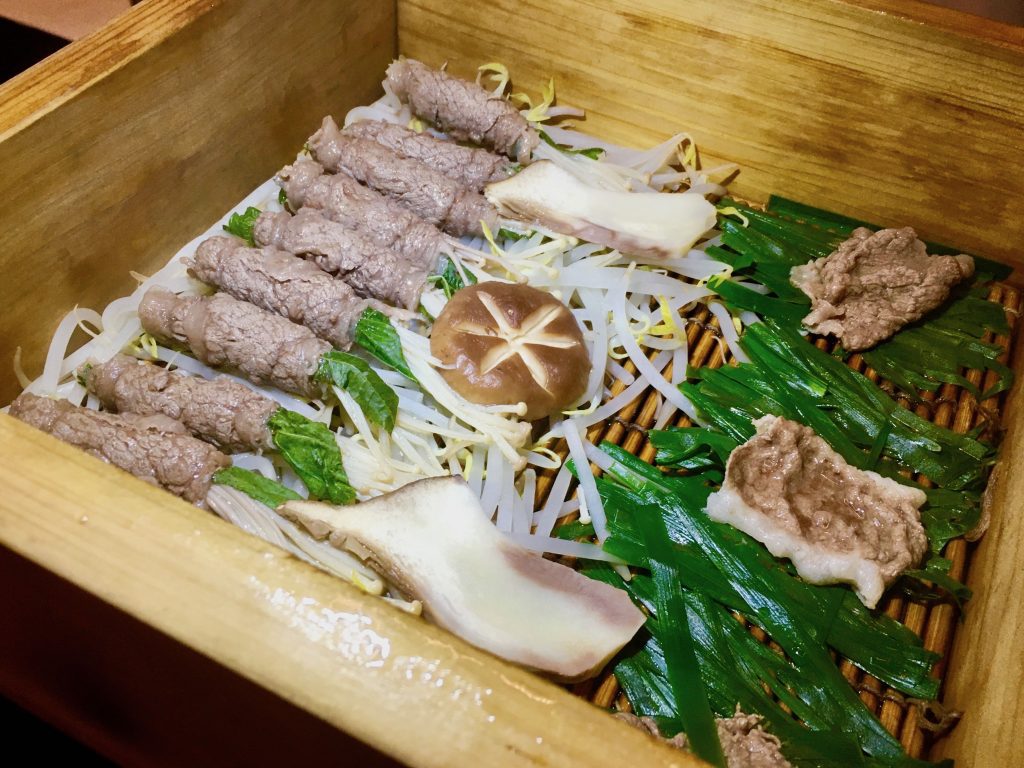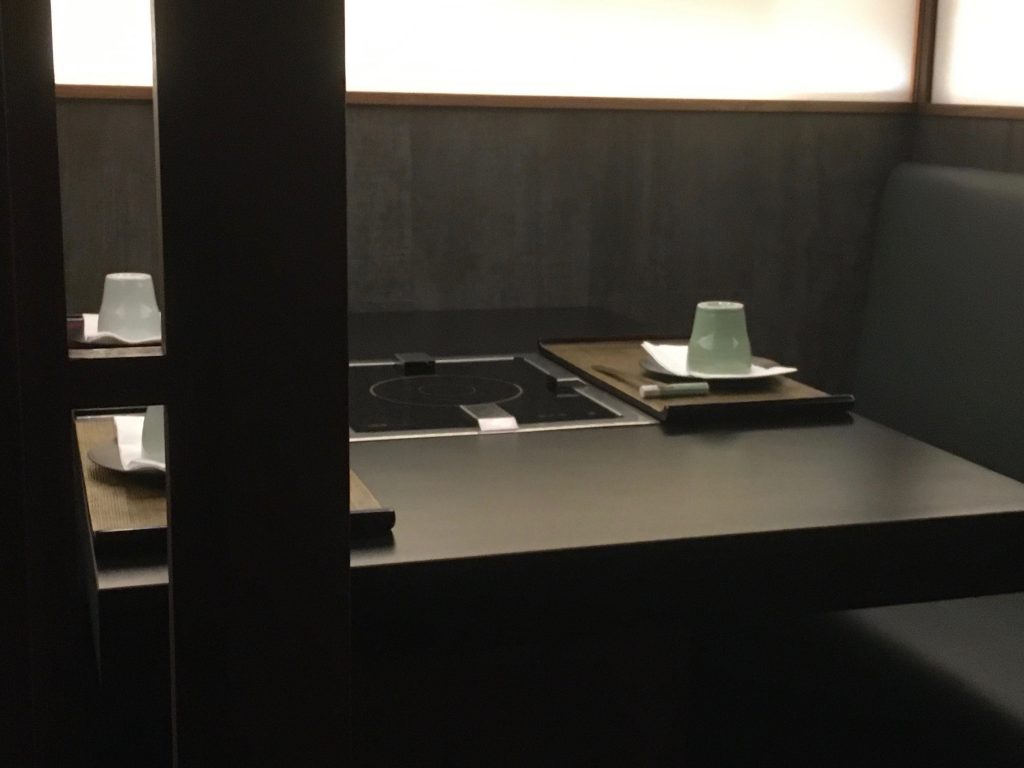 First, though, we started with their Chadol Jjim, steamed thinly sliced beef brisket wrapped around enoki mushrooms and sitting atop perilla leaf and bean sprouts, garnished with pieces of brisket, chives and mushrooms, shiitake and regular (10 pieces $46). It arrived beautifully presented in a wooden udon box accompanied by two dipping sauces (honey soybean sauce and a Yuja ponzu soy sauce of lemon, orange, soy and dried fish skin) and a paste of mayo and honey.
Once that was served, our drinks arrived. I sampled the Kold Fashioned ($17, Bulleit Rye Whiskey, Lapsang Souchong Tea, Baekse-ju and sugar cane), the dining partner the From Jeju  ($16, Hendrick's Gin, Korean tangerine, tea, pineapple) which we were told was their signature cocktail.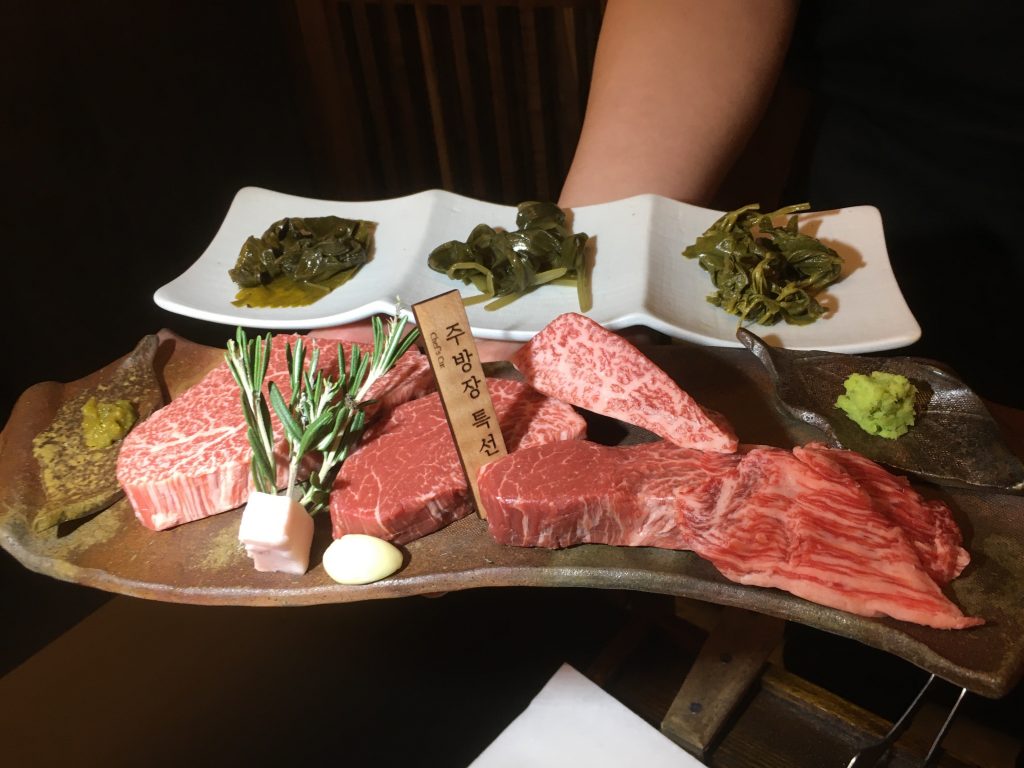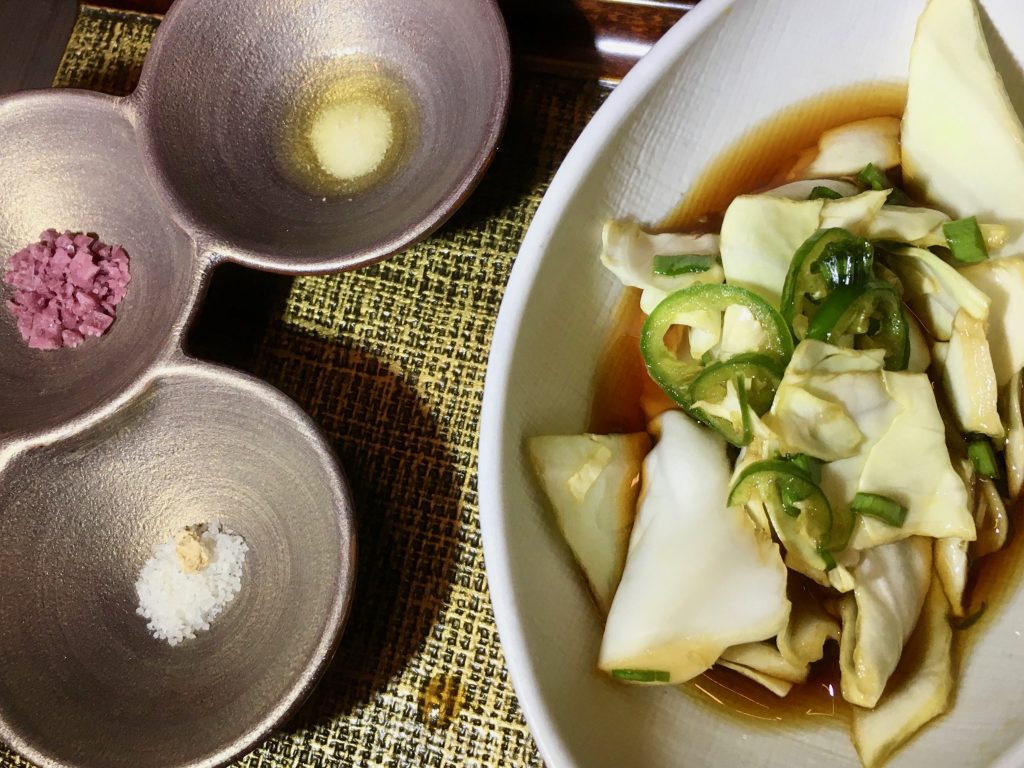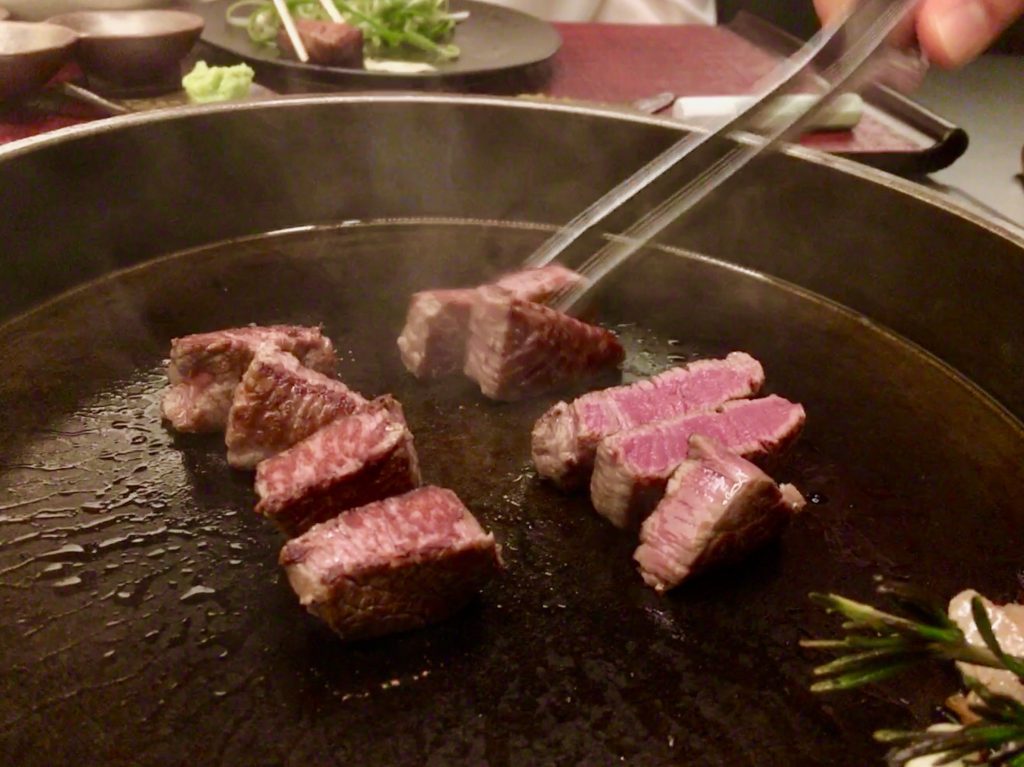 Our captain came in with a cast-iron pan for the main event, the grilling the Chef's cuts of Wagyu A5  beef 9-oz ($198). He placed the pan on the grill, turned on the heat and added garlic, rosemary and a chunk of Wagyu beef fat to season it before cooking our tenderloin,  the cut the restaurant decided to serve us. It was pre-cut into filet mignon, chateaubriand and side wings and attractively presented to the table along with individual servings of fresh wasabi and of Yuzu Kosho (yuzu, jalapeños and salt).
With the meat they served a scallion salad, an assortment of flavored salts (red wine, white truffle and salt with sesame oil); herb pickles including perilla leaf, parsnip leaf (ledebouriella seseloides) and wild garlic leaf (allium ochotense) all imported from South Korea; and, my favorite, the bowl of chopped raw cabbage, chives and serrano peppers in light soy sauce (I had a refill of that spicy one!).
After we had finished the BBQ, they served another signature item. The Sot Bap ($110). It's a clay-pot of cooked rice. It comes in three flavors and needs 45 minutes to prepare. They selected fresh sea urchin and black winter Italian truffle one for us.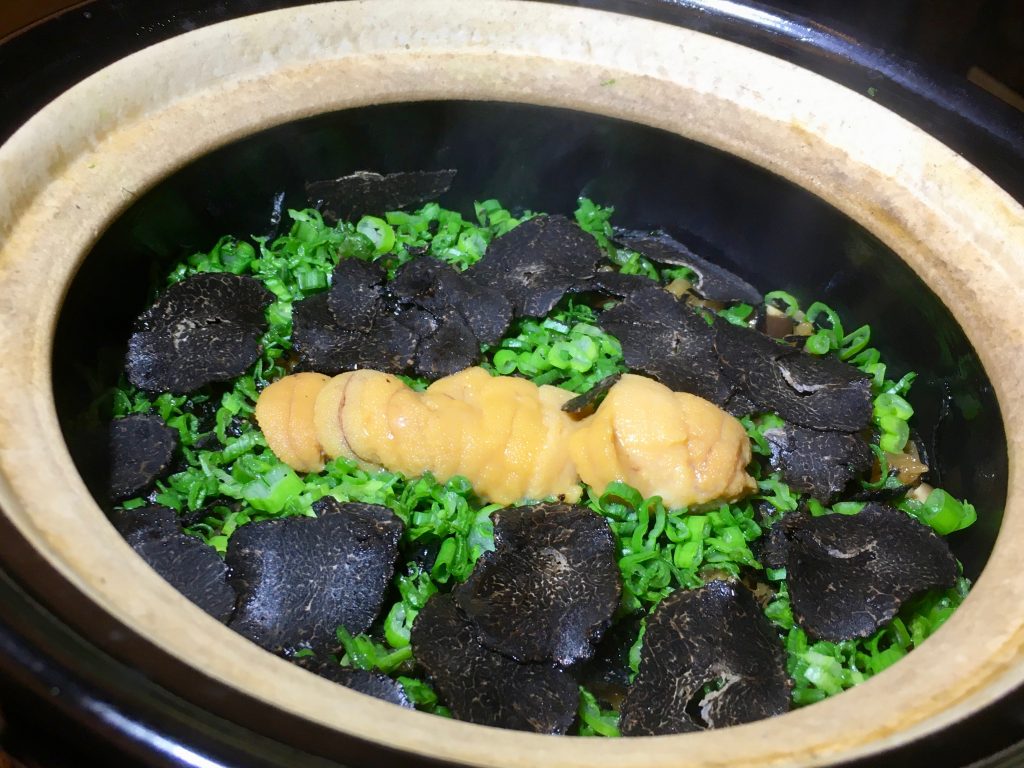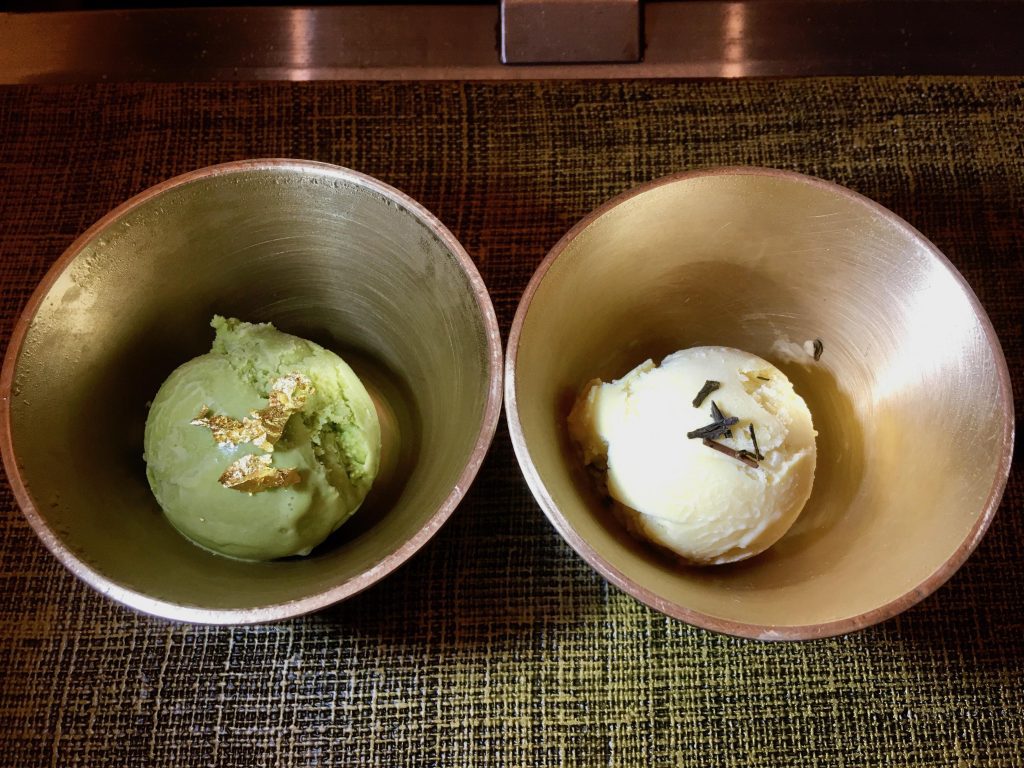 For dessert, their yummy housemade ice cream.
I'd recommend a visit to this romantic place.
Hyun
The Edge of Koreatown
10 E. 33rd St.
NY, New York City
9172616217