I revisited The House – that free-standing restored 1854 carriage house on 17th Street —  for lunch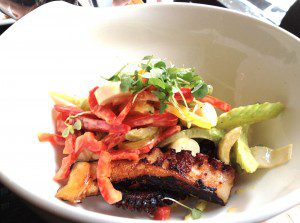 recently, as I had previously only been there for delicious bar bites and made a note to return for a meal.
I enjoyed a big bowl full of Pulpo a la Plancha ($18) – seared large pieces of Spanish octopus tossed with red peppers, celery slices, chunks of hearts of palm and halved cerigonola olives all tossed in a light citrus vinaigrette.
My dining partner delved into a hearty NY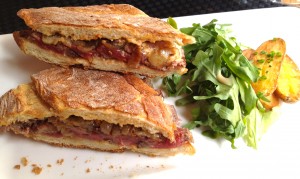 Strip Loin Sandwich ($24) on toasted ciabatta, oozing with caramelized onions and drizzled with smoked chili aioli. That came with some arugula and perfectly cooked fingerling potatoes halves (Sadly there were only three halves!).
– bonnie
Follow @BonnieBOTB

The House
121 East 17th Street
New York, NY 10003
212.353.2121