CITY EDITIONS
March 26, 2010
I wondered how I could not have noticed a free-standing carriage house on a New York City street that I've walked on more times than I could count. But it was true, I

discovered when I met a couple friends for a nibble at The House, a restored 1854 carriage house with three floors for dining.
We sat in the parlor by the lit fireplace on a cold winter's night sipping some Grüner Veltliner, Steinberg 2008 Fritsch, Wagram ($45) while nibbling some of their tasty offerings. These included a Trio of Crostini ($15) two pieces each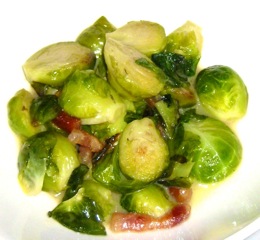 of marinated tuna belly and white bean, eggplant pinenut and raisin ad mortadella pate with Sicilian pistachios; and black olive hummus, tzatziki and avocado puree ($16) accompanied by warm  pressed flatbread.
All of us being Brussels sprouts lovers ordered a side of their yummy version with heritage bacon lardons ($6).
Note to self: return to try their dining room!
The House
121 East 17th Street
New York, NY 10003
212.353.2121
One Comment on "The House"
Restaurant Daniel – New York, NY Says:


[...] Loss Can Be Easy BEER SPEAK @ Life Cafe 983 « Life Cafe – New York City and Bro.. Food and Restaurant Reviews – The House, New York City – Food Blog | Bi.. Dining in Park City | Real Estate Blog From Batter Park to Broadway | New York City Moments New [...]
Leave a Comment
Posting Policy
Bite of the Best encourages our readers to comment on and review any products that we write about. Please express your opinions in a mature and civil tone of voice. We will not post rude or otherwise inappropriate material on Bite of the Best. We look forward to your comments and reviews!