Bonnie:
I admit when I'm wrong.
This past turkey day, while sitting around the holiday table, we discussed some of the products we've tried and whether we felt them worthy of being a FeaturedBite. Yes. Yes, we're always discussing food!Earlier this year, I had decided to write only a TidBite about The Cheese Ambassador and not a bite because I felt their offerings were pricey.
"The cheeses are fabulous," said Bryan. "The Cave-Aged Blue was the big hit at a recent dinner party…."
"We've recommended pricey items before," added Eric. "Especially when they are as good as these. The Barefoot Contessa chocolates are pricey — but delicious and worth it."
They both spouted good points!
So as we have done only a couple times since beginning BiteoftheBest.com, we are featuring a product that we've already written about as a TidBite, this time The Cheese Ambassador.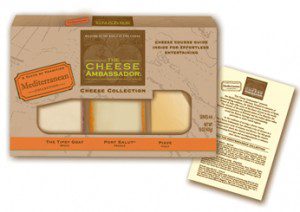 The Cheese Ambassador offers "elegant entertaining made easy," with two different trios of cheeses with complementary textures and flavors.
Their American Artisanal collection combines Central Wisconsin Aged Gouda, 3-year-old Amish Country (PA) Cheddar and Southern Minnesota Cave-Aged Blue. The Mediterranean contains Spanish Tipsy Goat, French Port Salut and Italian Piave.
Packed along with the cheese is helpful information for cheese neophytes, such as:
For the fullest flavor, allow the cheese to come to room temperature prior to serving
Use a separate knife for each cheese to keep flavors from mingling
Keep cheese covered before serving so they don't dry out
Begin with the mildest and make your way to the sharpest
In addition, The Cheese Ambassador offers suggestions for food and beverage accompaniment. Nice. And a nice hostess gift during the holidays.
Bryan: It's a hard job always being right 😉
I've been pushing for The Cheese Ambassador as a featured bite for a while now. In actuality, it wasn't really that hard of a sell, as all of us really enjoyed the concept and the cheese itself; it's just that there are so many products vying for our (and your) attention that sometimes a small knock against something will cause it to fall from our consideration. Though the original "complaint," if there really was one, was price, The Cheese Ambassador's cost is really not that out of line with normal pricing per pound for gourmet cheese… and this really is some gourmet stuff!
The quality of this product was never in question: It was just the price. But when I ended up actually doing some math, our original "failing" was not really a failing at all. The current price for a 15-ounce collection from The Cheese Ambassador comprised of three different cheeses is $29.99 (on sale from $35). At $30 to $35 per pound, The Cheese Ambassador  is basically the same price as any good cheese. Found most recently at my supermarket, real Parmesan went for $34 per pound, while a quality sharp cheddar went for $25 per pound. To have a nicely packaged, well-thought-out selection of quality cheese mailed to my door for the same price — well, that is deserving of a FeaturedBite.
I really did enjoy the entire experience provided by The Cheese Ambassador; the packaging, accompanying information and, of course, the cheeses were all wonderful. This really is the perfect product for any gathering.
Eric: One of the hardest choices I have to make when food shopping is the type of cheese to buy. It may sound silly, or even ridiculous, but the right cheese (flavor, not slice or shred) will make the difference between a good meal and a great one.
I've written about cheese in the past, and how my love affair with it began at my aunt's house in Brussels, with the usual variety of French Brie, Dutch Gouda and Belgian chévre – and, of course, a crusty loaf of bread. Since then, I've always kept a piece or two of the "gourmet" variety in my fridge, but I also always have been searching for that "perfect cheese" – one that will rival the fromages of Europe.
The Cheese Ambassador was a helpful reminder that these cheeses are still out there, including some produced in our own backyard. The collection provides a variety of different tastes, textures and even colors, and although the price is a point of discussion, in my mind it's moot. If you're a cheese aficionado, price falls second to taste.