After a day of touring the island of Nantucket, we settled in at the bar at The Brotherhood of Thieves, a rustic low-ceiling cozy tavern with carriage lanterns, dark wooden beams, exposed brick wa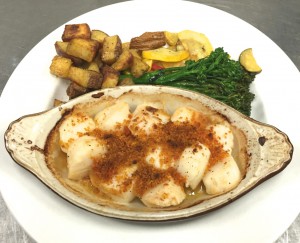 lls, and fireplaces. On the walls were whaling spears designed to look like beer taps.
The bartender suggested I try Maine Brewing Company's Peeper Ale, a rare and crisp American Pale ale, refreshing with a flavor of grapefruit and oranges ($13/16 ounce).
The ten broiled scallops were surprisingly moist and delicious, served very hot with a light flaky crumb crust in a white wine and butter sauce ($30). I shared them with my companions, who all wanted seconds. Served on the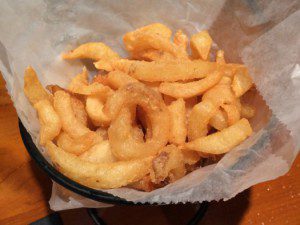 side was tender, green broccoli with a hint of garlic and salt and a sweet half corn cob. The bland tube-squeezed mashed potatoes were a disappointment. (Ed note: As you'll notice in this photo obtained from the restaurant, the scallops now come with roasted potatoes!)
I'd recommend instead the slim BroHo curly fries served in a spiral cone container with a creamy, smooth yellow cheese sauce that tasted like beer fondue ($7). Skip the fried oily calamari with a menu-stated Thai chili glaze, tasting like tomato jelly which did not improve the dish ($16).
I'd still recommend you stop in for some tasty eats, if you find yourself on Nantucket.
The Brotherhood of Thieves
23 Broad Street
Nantucket, MA
(508) 228-2551