Beacon Hill Bistro, a casual business lunch gem, is a quick walk from Back Bay and the Financial District. The nearby Boston Common Garage makes it convenient for out-of-town drivers. The European-styled restaurant is comfortably elegant with banquettes, black and white retro tiled floors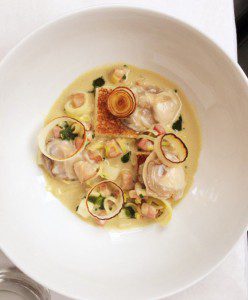 and closely set black iron tables, adorned with trendy dish towel napkins that seemed out of place. Conversation was easy, as the restaurant wasn't filled. Chalkboards promote upcoming wine dinners. Upstairs is the boutique Beacon Hill Hotel; explaining the snippets of French and Italian heard around us.
Forget your conversation and focus on the food. It is worth it. We sampled four dishes and every bite was flavorful. The oyster stew ($12) weaves white wine, thyme, spinach and leeks with the five shucked Powder Point (MA) oysters poached in an oyster
puree and salty bacon slivers sourced from North Country Smokehouse in New Hampshire. Chef Lucas Sousa, who's been at the helm about a year, also uses that smoky bacon in the quiche ($13) along with leeks and goat cheese, all in a flaky thick crust. The accompanying side salad needed more dressing.
I'd recommend the warm shrimp arugula salad ($16), a light meal itself, bursting with the flavors of avocado puree, fennel, radiant pink watermelon radishes and oranges dressed with a sweet mix of orange juice and shallots. Our least favorite was the too large and too cheesy chèvre omelette ($12). With its mostly lighter fare dishes, Beacon Hill Bistro will appeal to women or those watching their calories.
Chef Sousa makes each lunch worth the return visit.
The Beacon Hill Bistro
25 Charles Street
Boston, MA
617-723-7575