I joined a friend for a bite to eat at Stone Hearth Restaurant in Westville,  a new venture from the folks that own Delaney's Bar & Grille, another Westville staple.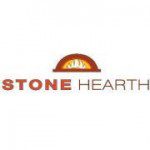 Our friendly waitress poured me a glass of Brunn Gruner Veltliner, one of their featured wines. We ordered the bottle, instead of  the glass ($7).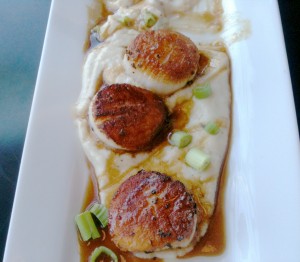 On the table was complimentary bread,  a house made focaccia with whole roasted garlic, topped with sea salt, and served with oil and a drizzle of balsamic vinegar.
The menu includes salads, personal pizzas and a kids menu. There is something for everyone, making the restaurant a nice choice for those dining with a group of people, where there may be picky eaters, vegetarians, or those with dietary issues.  In fact, the menu contains a helpful reference guide which earmarks gluten free, less than 500 calories, and even paleo-friendly dishes.
We decided to just have appetizers. My friend ordered the Pan Seared Sea Scallops ($12); four scallops over a bed of cauliflower puree with pomegranate molasses. She loved it! I opted for the Crispy Pork Belly ($10).  Stone Hearth serves it as two chunks of juicy, fatty pork, with a crispy crust, and a dried fig and port compote. It was delicious!
Stone Hearth has a small bar area, as well as a private area for special events.  Free parking in lot, as well as street parking.  Brunch is served on Saturday and Sunday – with a kids brunch menu.
I had heard from friends that they found the food salty on previous visits, along with a few other dislikes, but the kitchen got the message, because we had no issue with salt –
Special Correspondent: Robbin Seipold of robbinslist.com