Wanting to feel both useful and helpful during this world-wide pandemic, I'm donning my RD (registered dietitian), cookbook author and former food editor hats to share shopping and cooking tips with you as we're all sheltering in place.
I am also including a couple of already posted pre-quarantine and not-shared yet restaurant reviews when I send the NewsBite just for your reading and viewing pleasure. We all need diversions.
To start, here's a list of what to buy at /order from the supermarket to keep on hand.
Shelf-stable items (meaning they don't need refrigeration).
Rice
Beans and lentils (canned and dried)
Grains, whole grain preferred (amaranth, barley, bulgur, farro, freekeh, quinoa, rice, etc.)
Pasta, whole grain preferred
Olive oil and vinegar
Canned tomatoes
Flavor enhancers: capers, harissa, hot sauce, mustard, olives pickles, roasted peppers, salsa, soy sauce, tahini, etc.
Dried fruit, nuts and nut butters
Fish: canned anchovies,  sardines, salmon, tuna
Broth/stock (if you don't make your own)
Herbs and spices
Of course, you'll need fresh and frozen items, too. I recommend having these ingredients on hand in addition to whatever meats, poultry and fish you can procure.
A variety of root veggies (as they last a long time!) — that includes beets, carrots, garlic, ginger root, onions, parsnips, potatoes (all varieties including sweet!), rutabagas, turnips and shallots.
Fresh and frozen fruits and other veggies. Keep a variety, and try to always have lemons. Great as base for salad dressings and for livening up dishes that just need something. I prefer buying fresh fruits that need peeling and wrapped vegetables.  Lemons not only can be used for
Refrigerator: bacon,  butter, cheese (especially hard ones like Parmesiano Reggiano for grating), eggs, milk, sausages, yogurt,
To start, I've included one recipe and promise more to come. This soup is based on a recipe from one of my cookbooks: "Beans" by Bonnie Tandy Leblang and Joanne Hayes, Harmony, 1994. 
Lentil Soup with Sausages
Makes 4 hearty servings
A simple and hearty soup that can simmer all day long, or be ready in about an hour. Consider doubling or tripling and stocking your freezer with portion-size containers.
QUESTIONS about this how to do something in this or other recipes?  Ask in the comments section or email info@biteofthebest.com and I'll respond.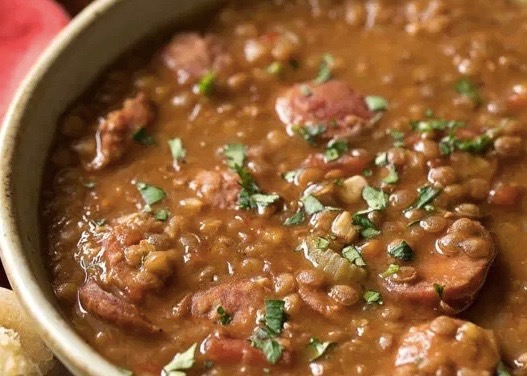 Necessities:
1 pound andouille, chorizo or Italian sausages, cut into small pieces (about 1/4-inch chunks)
2 medium onions, minced (about 2 cups)
2 to 3 cloves garlic, minced
1/2 pound lentils, picked over and rinsed (about 2 cups)
14.5-ounce can crushed (or another form) tomatoes
4 large carrots, peeled and cut into rounds
On hand:
Chicken stock or broth
Water
Salt
Thyme, dried or fresh
Black pepper
Not so Necessary:
Fresh parsley, chopped
How to: In a heavy skillet over medium-high heat, cook the sausages until they release their fat and are cooked through, about 3 to 5 minutes.  If desired, remove and discard all but about 2 tablespoons of fat from the skillet.
Add the onions and garlic to skillet and cook, while stirring, until tender but not browned, about 5 minutes. Add 3 cups broth, 2 cups water, lentils, tomatoes, carrots, 1 teaspoon salt, 1 teaspoon dried thyme or 1 tablespoon fresh Lentil Soup with SausagesLentil Soup with Sausagesand 1/2 teaspoon black pepper, preferable freshly ground.
Bring to a boil, reduce heat and simmer partially covered for 45 minutes to 1 hour, or until lentils are tender. Taste and adjust seasonings.  If desired, sprinkle with fresh parsley before serving.
This soup tasted even better the next day — if there's any left.