I don't exactly know how I feel about this company yet, but I thought I would share it with our Bite of the Best readers and see what you think! I can't think of anyone that's not interested in saving time and money, so I thought that I'd at least bring this new service to your attention. While everyone wants to save money at the grocery store, clipping coupons can be a real hassle. Sometimes I think that the time I might spend combing the grocery mailers for deals is just not worth the 50 cents I'll save from the fruits of my labor. It can be a truly daunting, thankless task!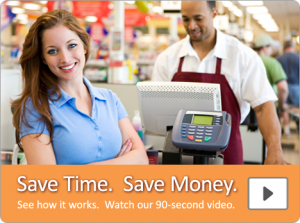 Well, now a brand new website apparently wants to do all of that for you, Shopping Nanny. The service claims that they'll do the research and 'clipping' for you, and all virtually, automatically putting
the savings on your grocery loyalty card (or allowing users to print coupons directly at home.)
Shopping Nanny will match coupons, savers and deals to your individual shopping list and habits. The site 'guarantees' a $500 per year savings on your grocery bills. Start out by giving over some basic information about where you generally shop and what you like to buy, and Shopping Nanny will plan, search and sort all the available deals and coupons on your behalf.
Shopping Nanny is an expert at "combination shopping", finding opportunities to combine sales, coupons, special offers and store specials to often double, triple or even quadruple your savings. Sometimes, you can even get products for free!
Here's how Shopping Nanny works:
– Tell them your favorite stores, then enter any loyalty cards you have for those stores.
Shopping Nanny will 'deposit' electronic coupons on your loyalty card so you don't have to carry them around.
– Start shopping for grocery deals right away or add more info to your profile.
– Print out your shopping list (or have it sent to your phone) and go to the store.
– Swipe your loyalty card to use the electronic coupons, or present your print coupons, and get ready to save!
The service does cost, $5.95 per month; but can $72 really save you $500? If so, might be worth a try. Currently available in California and Arizona, but apparently rolling out nationwide soon.
Happy Saving!
-bryan