"A red Sancerre?" I said somewhat bewildered. Until that moment, Sancerre was Sauvignon Blanc, I hadn't a clue that Sancerre Rouge even existed!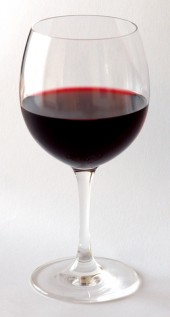 I learned about the Loire Valley red through a chilled bottle of Lucien Crochet: La Croix du Roy, an elegant light-bodied, bright but earthy, Pinot Noir at dinner at Montmartre. The sommelier had kept the wine at 50 F, making it much more drinkable with the French foods. Interestingly, I also drank Pinot Noir chilled while dining with master sommelier Fred Dexheimer early this summer.
"Chill … and the natural beauty comes out," Fred explained. We were at Artisinal, where Fred — spokesperson for Pays d'Oc IGP wines — shared his thoughts about those reasonably priced, varietal wines from Languedoc-Roussillon region (~$15/bottle). With the warmth removed, the Gerard Bertrand Pinot Noir was delightful with the cheeses that Artisinal is so famous for.
I got side tracked. Let's get back to Sancerre.
Sancerre, a French AOC wine, is  produced in the eastern part of the Loire valley, southeast of Orléans. AOC just means rules. Lots of rules. Very French, unlike the IGP wines.
Until now, you say Sancerre and I can practically taste the crisp white herbaceous wine. Our Montmartre som did laugh as she explained how her experienced distributor, often sends her white wine by mistake when she orders Sancerre Rouge.
That Sancerre is just Sauvignon Blanc is a common misconception. Word also has it that there's been a question regarding this purported anomaly on a sommelier exam.
– bonnie