Bonnie: I first tried hummus during my trip to the Middle East in the 70s. At that time, I hadn't a clue what hummus bi tahina, the lightly colored dip I enjoyed as part of a meze, was although I remember enjoying it. I also recall that the selection of small dishes served with it included olives, cucumber in yogurt and cold eggplant salad all served with warm pocket bread, which I now know as pita.
Those foods — hummus, tzatziki, baba ghanoush and so many other Mediterranean dishes — are more commonplace today. When I first started to make my own hummus, my guests asked what it was. No longer, as hummus at a party is more ubiquitous today than the sour cream-onion dip of yesteryear.
I like the creaminess of Sabra hummus, which comes in many flavor varieties including their classic hummus (as shown above) or flavored with olives, garlic, jalapeño, roasted red pepper, pine nuts or lemon. I like most all of them.
Oddly (or interestingly) there's a company in Europe, also called Sabra (see photos),that I discovered shopping with my sister in her local Brussels supermarket. The companies are not related.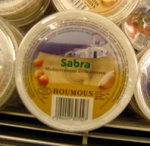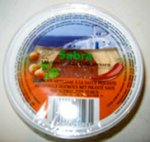 The U.S. Sabra also makes a healthy snack-to-go version containing hummus and pretzel crisps. We liked this enough to pack it as part of the goodie bags that we handed to our launch party guests as they left.
And when I'm not pressed for time, I make my own hummus, as it's so easy. Just puree some garbanzo beans (aka chickpeas) with some garlic, sesame seed paste (aka tahini), fresh lemon juice, parsley and salt. If you want, you might enhance the flavor with ground cumin, paprika (regular or smoked), and olive oil.
For those of you who need exact measurements to make hummus: combine 2 cups cooked and drained (or, if canned, rinsed and drained) garbanzo beans, 1/4 cup sesame seed paste, 1/4 cup minced parsley, 3 cloves garlic, 3 to 6 tablespoons fresh lemon juice (see note that follows) and a pinch of salt in a food processor or blender. Process until smooth. Taste and adjust the seasoning.
Note: If you plan to use the hummus as a dip for fresh veggies or pita bread, use less lemon juice; as a sauce for falafel or roasted lamb, use more.
And lastly, on a slightly more detailed nutrition note than in our Factoid above, hummus, like other legumes, is a rich source of soluble fiber, which helps lower cholesterol and prevents blood sugar levels from rising too rapidly after a meal, making it a good choice for individuals with diabetes, insulin resistance and hypoglycemia.
Bryan: Hummus for me is an ultimate snack maker — as useful a dipping condiment as any salsa or, shudder, ranch dressing. It is sometimes most delectable on its own with just a bit of warm pita. Enjoy with a glass of fresh mango juice to see a great Middle Eastern version of bread, cheese, and wine. Hummus is dramatically simple to make: garbanzo beans (aka chickpeas), tahini (sesame paste), garlic, lemon juice…blend till smooth with a dash of olive oil. Wow! I just made hummus. After you get over the fact that you made a delicious and nutritious snack on your own, stop and write down the name, Sabra. Let's not kid ourselves, only some of us like to cook anyway. Those of us not in a commercial kitchen don't make our own condiments. I buy my ketchup, my mayonnaise, my salsa and my hummus (often two at a time) at the grocery store. I was so glad when we chose to write about Sabra because it truly is my favorite brand. Please enjoy it. If you like hummus, I'd be surprised if you haven't seen/tried it. If you haven't tried hummus, get a bag of baby carrots, red peppers, cucumbers, celery or any of your favorite crunchy vegetables, or just some pita bread and dip into a container of Sabra. If you like it, get inventive; spread it lightly on a sandwich (especially anything with lamb) or try it with some apple (no really, it's good). This is one of my top picks we've had to date.
Eric: I love hummus. Growing up in New Haven, CT one of my favorite late-night foods was a falafel pita from the famous dive Mamoun's. Not only were their falafel balls delicious, but their homemade hummus was delectable. Since I moved away from New Haven, I haven't found it easy to find a good falafel and, sorrowfully, I gave up on my search for a substitute pita sandwich. What brought my addiction back to life was a recent trip to Israel where, to say the least, the hummus flowed like water. Morning, afternoon and night I dined on food with a side of hummus. Upon my return to Europe I continued my obsession and was purchasing store-bought hummus weekly. I thought I had my addiction under control until I returned to New Haven for the launch party we were hosting for the website. Cases upon cases of Sabra hummus arrived at the front door, some to be eaten and some to be given to guests in their goodie bags. Fortunately for me, we had more than enough. Before I got them in the fridge I had to make sure they were still edible. Like a true addict, I chopped up some red pepper, opened a bag of pretzels, broke out the pitas and took off the top from one of the 100s of tubs we had. For me, Sabra is one of the closest substitutes for homemade hummus. They have created a good ratio of chickpea to tahini (crucial for a non-overpowering taste). I'll put it simply, try it.