I do love the age we live in, the amazing accessibility to vast information in the palm of your hand. I sometimes wonder how we ever functioned before smartphones, before you could find any little thing, online, in seconds, from almost anywhere on Earth.
I was recently in Washington DC for a friends wedding, having not spent any real time in the city in over a decade. A good friend let me stay in his apartment while he was gone for the weekend, a wonderful spot just off of Dupont Circle. The neighborhood is in the heart of the city, making for a good selection of walkable restaurants, none of which I was familiar with… What to do.
Saturday morning came around and a good brunch hunger was growling. I had not made any plans or checked out any restaurants before arriving in DC, so I turned to Google maps and simply typed 'brunch'. A handful of pins dropped onto the map denoting my surroundings and the menu surfing began. Like any internet search, the headline (restaurant name) did or didn't grab me. The best name jumped out at me, Rosemary's Thyme Bistro. Seemed a cute name for a possibly good brunch spot. Menu looked good and nothing else in a 10 block radius caught my eye. Off we walked to Rosemary's…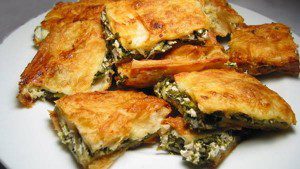 A wonderfully warm DC morning did not keep us from enjoying the patio seating, with small birds playfully hopping about our feet chasing loose crumbs. The Mediterranean inspired menu offered many traditional brunch choices (Huevos Rancheros, Bacon & Eggs, Steak & Eggs and a number of omelette),  as well as regional fare. We went for one of each, opting for an order of Eggs Benedict and an order of Spinach Borek (spanakopita, but Turkish). Just for fun with threw in a side of Andouille sausage.
A basket of house-made bread came accompanied by soft butter and strawberry jelly. DC's climate helped turn our soft butter into a near liquid spread in no time, making the jelly covered bread a natural dipping instrument… delicious. When our food came we decided that we should have just stuck with the regional. The spinach borek was fantastic, a wonderful portion served with crisp home fries. Onions, spinach and spices wrapped delicately in filo dough make for a unique breakfast. I must say I've only had the dish for lunch or dinner before.
The Benedict was lacking unfortunately and it oddly had to do with having too big a portion. Normal English muffin, nicely poached eggs, but oh lord the thickness of the Canadian bacon! It was like a piece of Easter ham, and just too much salt on the palette per bite to be really enjoyable. Eureeka! We have Andouille! The side proved to be the saving grace, as we replaced our hulking ham portion with some thinly sliced sausage, making for a Cajun inspired Benedict (we brought some of our own Regional flare).
All in all, a great brunch spot off Dupont Circle for the next time you're in DC and you don't want to leave breakfast's success up to the roulette wheel of Google maps. Enjoy! Find them in DC, or online here.
-bryan
Rosemary's Thyme Bistro
1801 18th St NW (Dupont Circle)
Washington, DC 20009
www.rosemarysthyme.com
(202) 332-3200