Les Dames d'Escoffier New York (LDNY) and the New York chapter of the American Institute of Wine & Food (AIWF) will co-host a 100th Birthday Celebration in honor of Julia Child at the French Consulate of New York (934 Fifth Avenue) on Wednesday, September 12, from 6:30 to 8:30 p.m.
The reception will f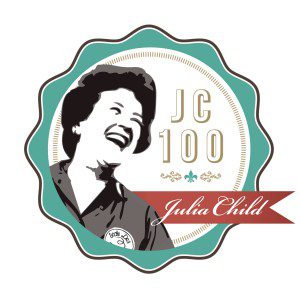 eature a menu by Diane Gordon Catering inspired by Child's best selling cookbook, "Mastering the Art of French Cooking," with wines donated by Deutsch Family Wine & Spirits and Southern Wine & Spirits of New York.
General admission is $65 per person. Click here for reservations .
LDNY is an organization of professional women in food, fine beverage and hospitality;  AIWF is dedicated to promoting health and well-being through the enjoyment of good food, drink and fellowship. The collaboration is a fitting one. The New York Chapter of Les Dames d'Escoffier, the founding chapter of an international organization that now has 28 chapters, presented Child with the first "Grande Dame Award" in 1977 to recognize her achievements in the culinary arts. Child, along with vintners Robert Mondavi and Richard Graff, co-founded the American Institute of Wine & Food, now with 22 chapters.
LDNY has set up a "JC100 Pinterest Board" where people can post personal photos and mementos of Julia Child for a "Happy Birthday Julia" montage that will be featured at the reception.
TV chef and author Julia McWillams Child was born August 15, 1912, in Pasadena, California. In 1948 she moved to France with her husband Paul Child, a U.S. diplomat, where she became enamored with French cuisine and enrolled in Le Cordon Bleu cooking school. Her first book, written with Simone Beck and Louisette Bertholle, was the groundbreaking "Mastering the Art of French Cooking", which remains a standard bearer today. A second volume of "Mastering" following along with several more books, including: "The French Chef," "Baking with Julia," "At Home with Julia" and "The Way To Cook," among others. Child hosted the popular WGBH public television show, "The French Chef" for many years and in the 1970s and 1980s starred in several TV shows including "Julia Child & Company," "Julia Child & More Company," "Cooking with Julia," "In Julia's Kitchen with Master Chefs" and "Baking with Julia" Child collaborated with French chef and author Jacques Pépin on several shows including "Julia Child and Jacques Pépin Cooking at Home." In 2004, Julia Child died two days shy of her 92nd birthday.
– guest contributor