Listed in a Zagat article as a "Hidden Restaurant" — a place that you may walk right by it — we decided to try Marrakesh (517 South Leithgow St in Philadelphia).  When the driver pulled up at the end of the block, we all looked down the narrow street like a scene out of Harry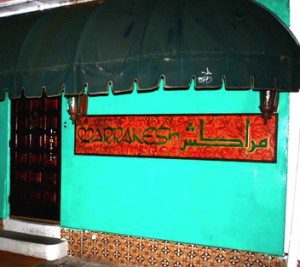 Potter.  We could see a light and an awning and walked towards it.
At Marrakesh it is customary to knock or ring the doorbell instead of walking right in — it's like being welcomed into a home.  Oh well, we'll remember that for the next time.
The photos of Mick Jagger, Cher, Elton John and many other celebrities who visited Marrakesh in its 35 years of business, hang in the foyer.
There are plush pillows everywhere, cozy subdued lighting, brass accessories, quilted wall hangings, and the wait staff in traditional Moroccan garb.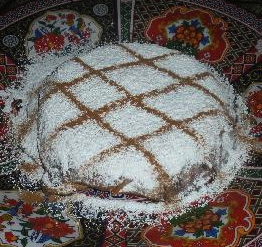 The restaurant is known for its seven-course meal for $25 – and belly dancing on weekends!
In addition to a full bar, you can also BYOB.  Because you eat with your hands (my mother would hate it!), the waiter first washed our hands with rose water then handed us large towels that would double as our napkins.
First course was a salad platter featuring generous portions of marinated eggplant, carrots and cucumber in separate sections of the platter.  Our waiter continually walked around with a large basket filled with pita shells to pick up our food with.
Entrees included a full roasted chicken,  couscous,  tender beef kebobs and a warm Bastilla –a Moroccan phyllo dough stuffed with egg, chicken and nuts and covered in powdered sugar.  The dessert was whole fruit, baklava, very sweet mint tea, and very full stomachs!
Oh and bring cash…no credit cards accepted!
Marrakesh
517 South Leithgow St
Philadelphia, PA 19147
215-925-5929

Special correspondent: Robbin Seipold