Last week I had the distinct pleasure of meeting Jean Georges Vongerichten at the opening of his newest restaurant, Market. The dining room is housed in the one of the latest hotel openings in Atlanta… the W Buckhead. The W has opened three hotels in Atlanta over the past year, all with a unique focus on dining. W Midtown opened last year and heralded Jean Georges's arrival to Atlanta with Spice Market. W Downtown just opened last month, Laurent Tourondel adding a special flair with BLT Steak (full report to come).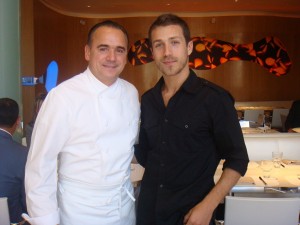 This is all about Market though, and more specifically the food inspired by Jean Georges; "where comfort food explores new flavor combinations and spices from around the world through classic dishes recreated and reinvented with eclectic flair." The menu features French, Asian and Italian inspirations; truffle fontina pizza, glazed beef short ribs, and bacon-wrapped shrimp are just a few items in the deliciously eclectic selection.
The dining room is cafeteria chic, with contemporary lighting (an enormous mirrored Murano glass chandelier hovered just above our heads) adding a sophisticated twist of Miami or Monaco. This luncheon was to be a little taste of everything… starting with freshly mixed house made sodas like pomegranate and green tea.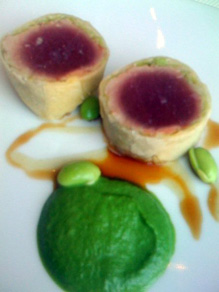 Tuna tataki led us off, delicately wrapped sushi roll style, in soft napa cabbage; a bright, bold green cilantro sauce added great color to the plate and punch to the light meat. Warm goat cheese custard topped with roasted pistachios, creme fraiche and diced beets kicked the richness level up a notch before our culinary course was steered towards fish.
My friend Sous and I both thought we were seeing the biggest scallops of our lives before realizing that the fish was actually a perfectly shaped fillet of cod, poached and served over a mixture of black beans and avocado. My fellow diners and I smelled our dishes, curiously trying to discern the exotic mixture of aromas emanating. "Cloves" Sous blurted out, winning the unspoken contest… and we all agreed, finding cinnamon, nutmeg and smoked paprika as well. The cod was perfectly prepared and flaking to the fork,  bites of the delicate white fish played harmoniously with the creamy fruit of the avocado and hearty texture of the beans.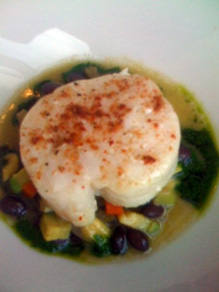 Our meat course was a sight for sore eyes; chicken Parmesan (sort of). I'm a big fan of this dish, but spoiled on my Northeastern roots (and a huge Italian population in my hometown). I was excited to see the 'Jean Georges' take on this classic and it was a delightfully light affair; thinly pounded, Parmesan-crusted chicken breast served with a basil artichoke sauce and preserved lemons. A truly clean and thoughtful dish in a long line of already impressive offerings.
Though almost bursting, sweets are a must have when you're trying to get the full meal experience. Molten cake impressed for dessert with a shortbread crumble adding an extra texture and flavor I'd not yet seen in this ubiquitous confectionery.
Market was a fantastic experience, and certainly another welcome face in the Atlanta dining scene.
-bryan