Serve this rich dish as a side dish or appetizer. It was developed for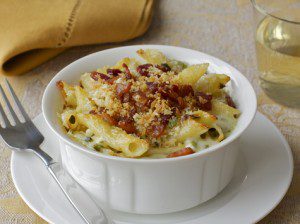 Cabot Creamery Cooperative by sous chef Josh Rollins, The Pitcher Inn, Warren, VT. We've adapted it for you.
Mac 'n Cheese with Roasted Jalapenos & Bacon
4 oz applewood-smoked bacon, diced
3/4 cup panko (Japanese-style) breadcrumbs
2 T unsalted butter
2 T unbleached all-purpose flour
2 cups whole milk, heated to just below simmer
12 oz Cabot Clothbound Cheddar, Cabot 3 Year Cheddar or Cabot Reserve Aged Cheddar, grated  (about 3 cups)
Salt to taste
8 oz dry garganelli, penne or fusilli pasta
2 jalapeno peppers, roasted, peeled, seeded and diced
Cook bacon in skillet until lightly browned; transfer with slotted spoon to small bowl. Discard all but about a tablespoon of fat. Add breadcrumbs to moisten, set aside.
In medium saucepan, melt butter over low heat. Add flour and whisk to combine. Let cook, stirring, for 2 minutes. Gradually whisk in milk. Continue cooking, stirring often, until sauce is simmering and thickened. Let sauce bubble gently until quite thick, about 10 minutes longer, stirring often so it doesn't scorch on bottom.
Remove from heat and stir in cheddar; when cheese is melted, season sauce with salt to taste.
Preheat oven to 350°F.
Cook pasta in large pot of boiling salted water until al dente; drain and return to pot. Mix in cheese sauce and jalapenos, then transfer to a 2-quart baking dish or six individual ramekins. Top with breadcrumb mixture. Bake for 25 to 30 minutes or until browned on top and bubbling throughout.
Makes 6 appetizer or side-dish servings