Online at BiteoftheBest.com <a href="http://www.biteofthebest.com/shop.php?i=B00CX7NOHO" target="_blank">shop</a> and gustiamo.com
$9.25 per 17.6-ounce package
Gustiamo is introducing a new fusilli pasta shape — the first shaped introduction since 1926. This thick, corkscrew shaped pasta was inspired by the Leaning Tower of Pisa's spiral staircase leading to the top of the tower.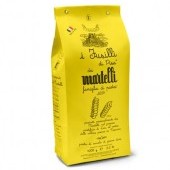 Each 1-ounce serving contains 100 calories and 4 grams of protein.