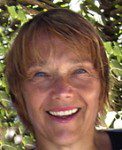 Bonnie: I met Daniel Graeff, one of the founders of the Lucini Italia Company, at a private home in San Francisco many years ago when he conducted an olive oil tasting for a group of food editors who were in that city attending the Fancy Food Show. Just as for wine tasting, we sniffed, swirled and sipped to evaluate the quality of the oils.
I learned to appreciate the fresh aroma, rich flavor and rounded mouth feel of Lucini's extra virgin olive oil, and have been a user ever since. Recently I've become somewhat addicted to its olive oils infused with essential oils. Each of the four varieties tastes as if you've combined the oil with its fresh namesake.
My passion for the infused oils started out of need. One day, as I reached for a lemon to squeeze over my just-grilled fish, I realized I had used the last of that fruit for my salad dressing. Just a drizzle of Lucini's infused oil added a perfect lemon kiss to my striped bass. From that moment forward, I was hooked. I used the lemon variety in my salad dressings and drizzled it over grilled asparagus, steamed broccoli, sautéed shrimp and scallops in lieu of, or addition to, freshly squeezed lemon juice.
I used the garlic oil in salad dressings, for sautéing shrimp to make a quick scampi and brushed on toasted baguette slices as the base for my bruschetta.
I drizzled the basil over sliced tomatoes, sometimes with fresh mozzarella cheese, sometimes with burrata. I learned the hard way that the fiery chili adds lots of heat and now use it sparingly!
I sometimes blend them, drizzling two or more of the flavored oils for one dish, such as fresh pasta topped with freshly grated Parmigiano-Reggiano and drizzled with both the garlic and fiery chili oils.
I know I'll continue to have fun finding uses for these oils. I also know that I prefer wine tastings to olive oil tastings.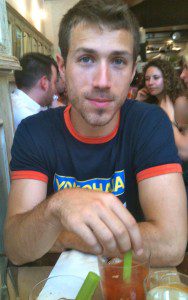 Bryan: Olive oil is one of those special kitchen ingredients that somehow makes its way into almost everything I cook. Pretty much anything that's going in a pan gets a coating of olive oil (especially before it's seasoned). Even many noncooked items, especially salads, get a splash of this heavenly liquid before making their way to my mouth. There is a reason olive oil goes into everything. So let's be real for a moment here. Olive oil is just liquid fat. Beautiful, wonderful, delicate liquid fat. It's the original mayonnaise, and it's truly an essential for every home or commercial chef. Food needs fat, and though you should choose your fat carefully, you must choose at least one fat if you want flavor to your food.
As we've stated a thousand times at Bite of the Best, quality matters. The level of care and focus that goes into your food's ingredients will certainly be a determining factor in the quality of your end product. If you want to build a nice house, make sure to build a solid foundation. If you want to create a good meal, make sure to have a high-quality olive oil… it makes all the difference in the world.
You may have seen the designation EVOO before. If you've ever wondered what it was, you're not alone. The acronym simply stands for "extra virgin olive oil," a term controlled by the governing body of olive oils — yes there is one — based in Madrid, Spain. Like many other food-based organizations, it sets STRICT criteria for determining the "grade" of olive oil products. If you know a little bit about the system of grading for European wines, you already know a bit about how oils are classified too. If you don't, here is a small primer:
Extra-virgin olive oil comes from virgin oil production only (see below). This particular designation of oil contains no more than 0.8 percent acidity and is contextually judged to have a "superior" taste. Generally, extra virgin olive oil accounts for less than 10 percent of the oil produced in most olive-growing countries, though this amount is much higher in the traditional olive oil "powerhouses" of the Mediterranean (Greece, Italy, Spain). Aside from EVOO, there is also virgin olive oil, pure olive oil, olive oil, olive pomace oil, lampante oil and even refined olive oil. You really don't want to consume anything lower than "pure" with your food. Below that is what Doc Brown used to power his DeLorean. Keep in mind, these rules only apply to European olive products, and do not mean anything in the United States. As per usual, Americans do their own thing. Get lost, Metric system!
So, who makes the best EVOO? Well, that's debatably one of the worst conversations you can have with anybody from the Mediterranean, as opinions will surely be all over the map (literally and figuratively). But to many Americans the answer is simple: Lucini Italia. Founded on the philosophy that great-tasting food comes from only the highest-quality ingredients, Lucini creates authentic, handcrafted gourmet foods inspired by the culinary traditions of Italy, and in doing so has made its name synonymous with Italian quality in the United States.
Lucini still makes things as it did in the "Old World." Everything is prepared in small batches using only natural ingredients. Lucini only works with small regional farmers, ensuring quality oversight throughout the production phases. Additionally, the company collaborates closely with celebrated chefs and health experts in order to provide its customers with an unrivaled selection of ingredients with true gourmet quality. Lucini's array of offerings includes award-winning olive oils, handcrafted vinegars, gourmet tomato sauces, soups, salad dressings and even a collection of limited-production organic foods.
Then, what's so special about Lucini's infused olive oils? To start off with, its sampler collection is quite literally the perfect gift for any Italian cuisine aficionado. The petit set of five extra virgin olive oils includes the classic EVOO, as well as four wonderfully infused olive oils (Delicate Lemon, Tuscan Basil, Robust Garlic and Fiery Chili). These are products of the highest quality; handpicked, single-estate Tuscan olives pressed within 24 hours of picking, capturing the true flavor of the fruit. The best part? The collection is bottled in 100 milliliter glass bottles… so you can bring it on a plane as you head off to visit your friends (packed in a plastic bag, of course)!
A truly amazing collection. The infused EVOOs from Lucini have no mass-produced equal; you'll even find choosing a favorite to be quite difficult. The Tuscan Basil is inspired by the sweet herb most commonly associated with Tuscan cooking, with herbal oils extracted from fresh basil adding an aromatic flavor to almost any dish. The Robust Garlic is extracted from fresh Tuscan garlic, creating a simply amazing addition to any marinade or grilling sauce. The Delicate Lemon is an absolute godsend for any pan-fried fish or vegetable dish, while the Fiery Chili oil has a robust flavor that just balances out its intense heat. Most importantly, Lucini does NOT use any synthetic flavors in its products, so this is pure foodie bliss! Wanting to go a flavor step further? Try the White Truffle Extra Virgin Olive Oil; what even Oprah calls "Simply the Best!"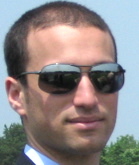 Eric:"Simply the Best" is certainly a statement worth touting for Lucini and for the myriad products they produce, bottle and sell. I believe most consumers couldn't care less about the olive oil they're consuming or, for that matter, with what they are cooking. But we epicures sing the praises of the golden liquid… and for good reason. Olive oil is not only for "greasing" a pan, it also can be used in salads, for baking, to emulsify sauces and — my favorite — as a dip for bread.
What Lucini has done with its infused EVOO (extra virgin olive oil) has brought the game to another level with a distinction of taste and quality. Enjoy tomato salad in the summer? If so, next time drizzle its Tuscan Basil EVOO. Trying to spice up your homemade burritos? Use a few drops of Lucini's Fiery Chili EVOO in your sauteéd vegetables. Long story short, the new line of Lucini infused oils adds flavor to a sometimes bland world of cooking….