DayLife presents Lower East Side Pickle Day will take place on Sunday, October 28 from 12 – 5pm on Orchard Street from East Houston to Delancey Streets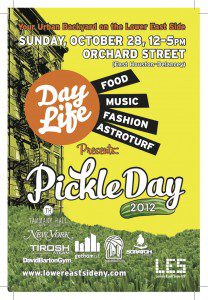 in New York's Lower East Side.
The picklers will be selling their brine-soaked delicacies. Orchard Street, which will be covered in AstroTurf,   will have  30+ food and fashion vendors selling their goods and goodies all  from modern-day pushcarts. The event will also include entertainment and activities, including  face painting, balloon animals, belly and ballroom dancing and instruction, a costume contest and a home pickling competition.
– Guest submission