I was reading recently about the new menus at The Westin Resort in Los Cabos.. The piece got me dreaming a bit.. Just thinking about great food in beautiful surroundings made me smile for no other reason. Just thought I'd share some of my read…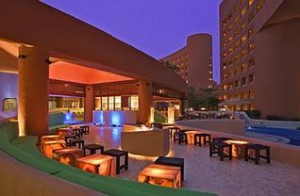 The Westin announced its latest seasonal menus and offerings at its two restaurants, La Cascada and La Playa, bringing a plethora of fresh new items for guests to enjoy.
At La Cascada Restaurant, an elaborate Sunday brunch, either indoors or outdoors in the ocean breeze, offers guests a buffet of fresh seafood… spinach stuffed and puff pastry wrapped Canadian salmon fillet… antipasti and salads such as octopus and potato escabeche and spinach and prawns salad; a carving station serving prime meats such as sea salted and roasted prime rib, suckling pig, and New Zealand rack of lamb; decadent desserts including traditional cheese cake with raspberry couli, coconut and passion fruit mille feuille; live cooking stations; sparkling wine; and much more.
whew… quite a breakfast. And all overlooking the Pacific… Ahh..
-bryan