It's rare for a side dish to be so exceptional that it becomes the standout of the meal, let alone a restaurant; but Chef Bridget Burns at Jerry's in Winnetka serves a Hearts of Palm Salad so innovative that it takes center stage. With only eight ingredients, Chef Burns is able to create an wonderfully easy, gourmet addition to her menu.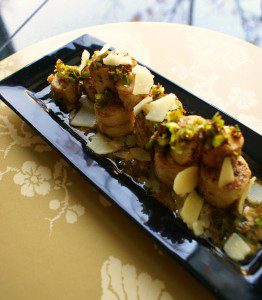 The salad is warm, including browned hearts of palm blended with chopped anchovies, fresh garlic, leeks, chili flakes, all topped with shaved parmesan cheese. Jerry's is known though for their seasonal menus, so you might want to act fast if this new dish is definitely one you don't want to miss.
Don't live in the Windy City? Just make your Hearts of Palm Salad tonight, thanks to Jerry's.
Ingredients:
1 tbsp. chili flakes
3 anchovy fillets
6 cloves garlic
2 cans hearts of palm, cut into discs
Pepper
1 leek diced, washed really well
Oil and butter
¼ cup vegetable or chicken broth
Parmesan cheese, shaved
To prepare: Chop together anchovies, garlic and chili flakes until mixture forms into a paste.  Make sure pan is very hot, and add 1 tbsp. oil and 1 tbsp. butter.  Brown hearts of palm in hot pan (try to turn only once) and be careful not to break the hearts of palm.  Add garlic, anchovy paste and leeks to pan and cook until leeks are soft.  Deglaze pan with either chicken or vegetable broth.  Serve with shaved parmesan.
-bryan
Jerry's is a neighborhood restaurant based on seasonal flavors and French techniques. Founded in 2008, the restaurant offers lunch, dinner and dessert menus, changing offerings based on the season. For more info, check out their site.
Jerry's
505 Chestnut Street
Winnetka, IL 60093
(847) 441-0134