Once a year, I would find a friend who wanted to join me on a trip to Governors Island to dine at Kerry Herffernan's Island Oyster, a seafood restaurant located right off the dock serving sustainable seafood in an upscale high-end waterfront establishment that felt like dining at a resort. We'd sit at the tables, sipping the on-tap Rosésoaking in the amazing views of lower Manhattan.
Wanted to support the restaurant, I took my annual trip thinking that it wouldn't be much different — other than socially distancing — as it was always an outdoor restaurant. I was so wrong.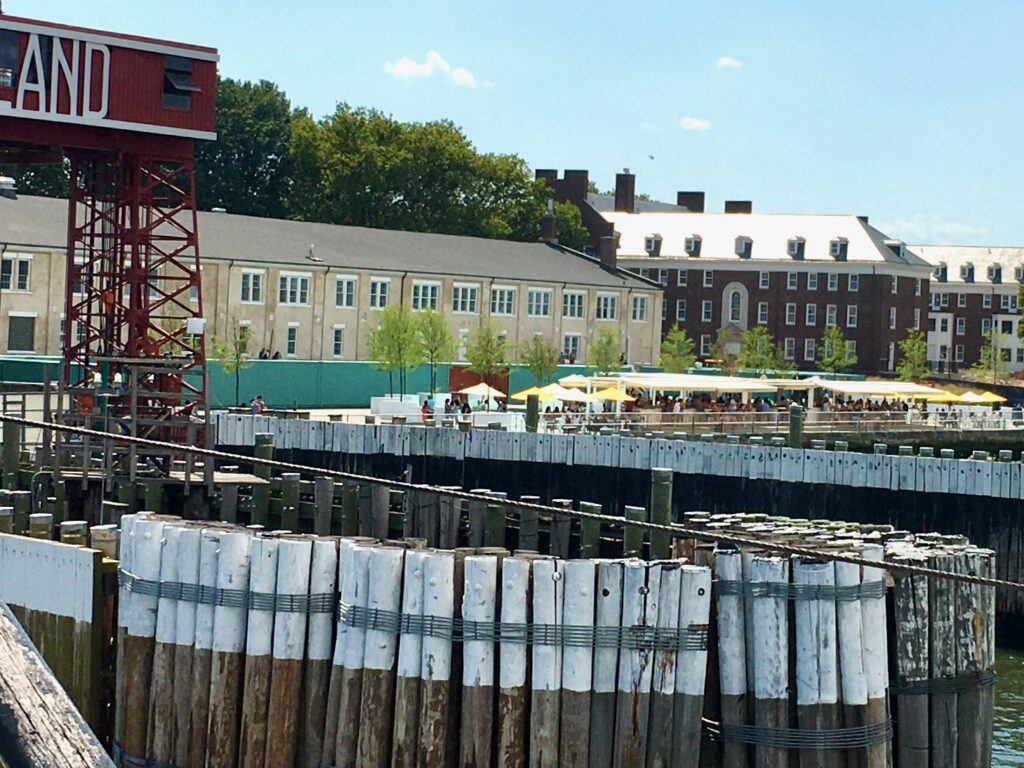 The trip over was still a lovely short — 5-minute — ride across but there's a very limited menu missing the classic fish tacos that I loved.  And now, there are picnic tables with a QR code to scan, order online and wait for notice that it's ready for pick up in a far corner of the outdoor space near where the cabana-like restrooms are located.
I went up to the bar to order our cocktails instead of the rosé as they were more fitting to the new digs. An Aperol spritzer for me and a Skipper Key made with rosé, lemon, Cassis, strawberry cordial and seltzer ($17.50 each including tax and tip).
My friend was disappointed in her lobster BLT as the bacon wasn't crisp as she suspected when she couldn't make a notation about that request on the online order.   I tried the fish sandwich, a block crumb-coated deep-fried fish ($16.50)  plus an order of fried ($7.50).  The fries were good as was the spicy ketchup that accompanied them.
Sadly this is not currently the upscale restaurant that I frequent on Governors Island. It is though a fun outdoor picnicking seafood place with a good bar and fabulous scenery. If you decide to go this season, do so soon as it closed on 10/31.
Island Oyster
Governors Island, The Ferry Landing
146 Carder Road
Brooklyn, NY 11231
(917) 268-0200