The way you select it
Depends on the gift
$5.99 and up
Various holiday gifts of food
Online or at stores
Everyone
Bonnie: We're veering from our traditional format for the next two weeks to provide you with a listing of a small number of outstanding products that we feel would make great holiday gifts. This week's edibles include the following…
Bryan: Though, generally, our goal each week is to provide you with one great-product recommendation, we're doing things a "bite" differently over the next two weeks. Bite of the Best will be chock-filled with a variety of great foodie gift ideas…. Hey, someone's got to get the economy moving 🙂
Eric: Holiday shopping can be difficult; overbearing sales personnel, ridiculously long checkout lines and, unfortunately for this year, an economy with prices going down but credit rates going up. Luckily, the holiday gifts we're reviewing won't break your bank account, and are mostly available for order online. So grab a drink or snack and browse through a collection of holiday gifts aimed to please the "foodie" in all of us.
DeBrand Fine Chocolates Connoisseur Collection from $22 for a 9pc box.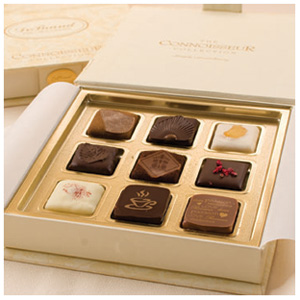 Bonnie: Delicious chocolates that are works of art, so beautiful you almost don't want to eat them. For that extra-special person, give the chocolate of the month club, having goodies sent each month.
Bryan: This is truly an elegant and decadent way to celebrate the holidays. DeBrand reminds me of one of my favorites; Leonidas, a Belgian chocolatier I was originally introduced to by my aunt in Brussels. To favorably compare any American confectionery to a European counterpart is a big step for me. Consider these for a loved one…
Eric: The making of chocolate should be considered an art. But unfortunately for the majority of us, we've only tasted counterfeits. DeBrand offers a sampling of some of the finest chocolates this side of the Atlantic. Each piece is unique, combining subtle tastes of nuts and spices with a simple, artistic design. Eloquent in their simplicity.
French Meadow Bakery Gluten-Free Fudge Brownie Bites and Gluten-Free Coconutty Macaroons: $5.99 per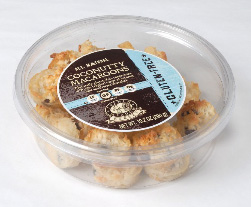 10.2-ounce tub; New York-Style Cheesecake $13.50 per 30-ounce cake.
Bonnie: Bite-size morsels so tasty you can even give them to friends who don't need to avoid gluten. Give the cheesecake — topped with fresh berries — to your favorite hostess. It, though, is not gluten free.
Bryan: As Eric has recently written about, living gluten-free is a burden that many people have to bear. French Meadow Bakery is becoming another bastion for the "afflicted," baking sensational treats to meet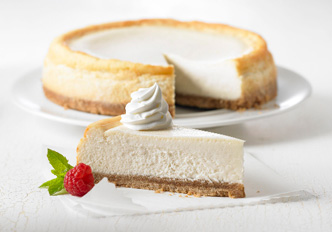 the needs of celiac sufferers everywhere. The brownies are high quality in their own right, whether you're avoiding gluten or not! The cheesecake is amazingly good, though it does contain gluten. Sorry sufferers, this one's not for you.
Eric: One of the more interesting holiday gifts I've seen this year. French Meadow Bakery also includes a line of Hemp Bite Brownies. Brownie bites, deliciously moist, that will have hippies everywhere stopping to indulge this holiday season.
Sonoma County Winegrape Chocolates Wine Grape Truffles $30 for two 16-piece boxes.
Bonnie: Rich chocolate truffles infused with the wines of Sonoma Country — Russian River Pinot Noir,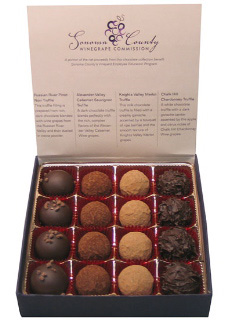 Alexander Valley Cabernet Sauvignon, Knights Valley Merlot or Chalk Hill Chardonnay. A unique gift for your favorite the oenophile.
Bryan: If you're going to hit two of my favorites, you really can't go wrong. Imagine the depth of flavor savored in an earthy pinot or merlot from one of California's richest wine-growing regions, and then envelop it in rich chocolate. What else need I say?
Eric: Wine lovers rejoice! Finally you can have your Champagne aperitif, the Pinot Noir during dinner, a nice Muscat with your dessert and a wine-infused chocolate as your digestif. Delicious and subtle, these truffles would make a wine enthusiast proud.
Lucini Italia Infused Premium Select Extra Virgin Olive Oils (Robust Garlic, Tuscan Basil, Delicate Lemon, Fiery Chili) and Artisan Balsamic Vinegars (Savory Fig and Dark Cherry). $15.99 per 8.5-ounce bottle; Premium Organic Stravecchio Parmigiano Reggiano: $25 per 8-ounce chunk.
Bonnie: Any aspiring or inspired cook would relish a couple of bottles of these specially flavored oils and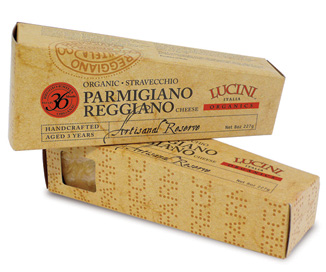 vinegars. For that extra-special someone, add a chunk of their organic Parmigiano Reggiano.
Bryan: You're probably thinking, oil and vinegar… I might as well give my girlfriend a vacuum. Well, this would likely be true if your "other" is not a foodie. If they are, they will likely be as I was: floored by the intense flavors of the fig and cherry vinegars, and just as surprised by the mild, yet ever-present subtleties of the garlic and fiery chili oils. A real winner! Top the gift off with a hunk of Lucini's organic Parmigiano cheese to get your share of mistletoe kisses.

Eric: I've never been so impressed with the taste of a vinegar, and I can't imagine that anyone else won't be either. For the aspiring chef or the absentminded cook in all of us, these products will help to add a little "oomph" to holiday meals.
Elegant Cheese Cakes Passionate Purple Pleaser $65 plus shipping. Chocolate paper tied with a deep violet ribbon, wrapped around a bittersweet white chocolate cheesecake with raspberry swirl and a chocolate macadamia nut crust that serves four.
Bryan: I couldn't believe there was debate over this artistic/delicious cake. One person at our large Thanksgiving table didn't like the flavor. (I don't think that guest likes cheesecake at all to be honest.) I had to step up and defend this Elegant cheesecake; one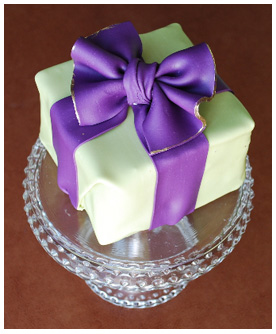 of the best gifts on the list, pre-wrapped (sort of) and a treat anytime of year!
Eric: Cake has come a long way since the 1950s (not that I'd know, but I'll make the assumption). With the introduction of chocolate paper to the world of baking, pastry chefs have been able to take their creations to new levels. For the cheesecake lover, this gift will take the cake—pre-wrapped (so to speak) in a beautiful presentation.
Bellagio Sipping Chocolate $ 8.75 for Sip and Dip Gift Tote In Original Sipping Flavor (2 packets of Sipping Chocolate + 2 Chocolate Biscotti Cookies) or 9-ounce tin Original Flavor Sipping Chocolate.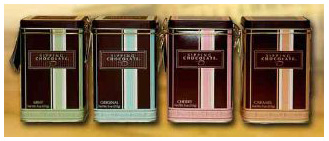 Bonnie: Hot chocolate that rivals Angelina's. Wrap with a fun mug.
Bryan: I feel like Bonnie has said it all… I can't say I'd ever frown on getting a gift like this. "Here, drink some great chocolate." "Thanks, I certainly will."
Eric: What more would you need? You might try melting a chocolate bar into a glass, but it might not be as presentable. Sipping chocolate might not be on the top of your holiday gift list, but I'm sure it will come in handy when the snow starts to fall.
Dry Sack Gift Box $14.99 for a 750-ml bottle with two rocks glasses.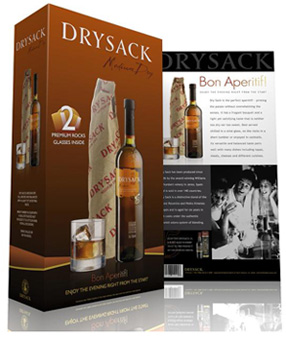 The popular Spanish aperitif, aged in oak casks for six years.
Bonnie: For your friend (or yourself) who enjoys serving tapas. A perfect match.
Bryan: I love a gift of alcohol. I'm not talking about sending a case of Budweiser with a bow on it. I'm taking about introducing friends and family to new and interesting flavors, something to gather around (the bottle) and enjoy together. I was recently given a bottle of sweet-tea vodka (a Southern treat) to my receiving delight, and would absolutely consider the Dry Sack Box an equally worthy gift.
Eric: The Spanish do a lot of things right: food, architecture, siestas and sherry. Alcohol makes a great gift. And the best part: You can enjoy this one with them.