PAST BITE
April 25, 2007
What it is: A Paris café serving a decadent cup of hot chocolate – one that tastes like a melted chocolate bar
How it comes: Cup
Where it is: Angelina is at 226 rue de Rivoli, 1st Arrondissement, Paris; phone: 011 331 42 60 82 00 (from the US)
Who it's for: Chocoholics visiting Paris and needing respite after a visit to the Louvre
Suggested retail price: Currently 6 Euros (about $8) a cup
Nutrition notes: Definitely not applicable
Category: Travel Bites


---
Bonnie: For years I've been sending friends heading to Paris to Angelina's for hot chocolate. I've only gotten raves back.
Back up to 1992.
There I was in Paris, not with foodies, but with my 8- and 11-year-old sons. We had won the airfare for the trip. First class. But that's a whole other story. We were economically squeezing in as much as we could afford, which wasn't much, as I was a single parent freelance writer just getting by.
Paris with young boys is different than with a lover or, for that matter, any adult. We climbed almost every set of stairs in the city, hung out with the gargoyles atop Notre Dame and traversed the miles of subterranean catacomb tunnels lined with six million skeletons. Yes, a different Paris.
Optimistically, I kept a folded list in my pocket of Paris food experiences not to be missed from my friend Babs Chernetz (then food editor of the now defunct McCalls, currently at Redbook). Her list included hot chocolate at Angelina's, a place not far from the Louvre, where we were headed to see the Mona Lisa and as much else as we could fit in before Eric became antsy. Knowing he never lasted more than an hour in museums, Angelina's was ready as plan B.
Thirty-five minutes later we were on our way through the Tuileries to Angelina's. Perfection, I thought, as they seated us in the front room near a window at a white-tablecloth covered table, something reminiscent—only to baby boomers—of Eloise at the Plaza.
I convinced the boys we'd all share one hot chocolate (priced at $8 at today's prices) and they could each have their own bowl of gelato – something that costs less. The hot chocolate was worth every penny. We lingered all afternoon with the guys dutifully writing in their journals (the result of the deal I made with their forward-thinking principal, Ed Mackniak, who—when asked if I could take them out of school for the trip—replied, "They'll learn more from the two weeks in Europe than they would in any classroom.")

The first sip of that rich hot chocolate is still with me. After all, could you forget drinking a melted European candy bar? Neither could I.
Bryan: My life has been filled with great travel and great food (this one I have to thank Bonnie for – as only a mother can drag a young son to a confectionary outside the Louvre). Few experiences stand out as boldly as Angelina's… It was my first time in Paris (I was only 11) – I can still sense the aroma of that rich, warm flowing cocoa and the recollection of that chocolate continues to elicit fond memories of an awakening to a greater food culture and the simple and amazing things in life one finds when traveling.
Eric: With great travel will always come great food discoveries. Have you ever thought about melting a chocolate bar into a glass, waiting for it to become the perfect temperature, and drinking it, savoring each sip as though it were an ice-cold drink on a scorching hot day? That to me is the definition of Angelina's Hot Chocolate. It is the epitome of a chocoholic's euphoria, and is a taste that would even have Willy Wonka asking for seconds.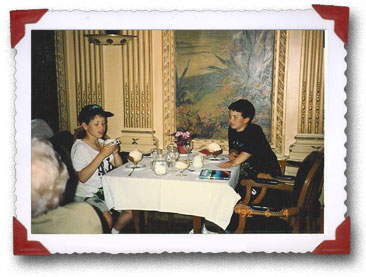 91 Comments on "Angelina's Hot Chocolate"
marla Says:


What a wonderful piece of life, so beautifully written, I always knew you would find a way to use your greatest asset to it's greatest potential. I experienced the joy of Angelina's chocolate when I was in Paris, and this brought back a flood of sensual memories.
Great Job! By the way, Eric & Bryan have an obviously inherited way with words, as well. Looking forward to future "Bites".

Huma Gruaz Says:


Bonnie,

I am thrilled that you launched this ingenious site with a write up on my favorite town. Your review brings back so many memories from Paris and makes me eager to go to Angelina's. Love the picture and the write up from Bryan and Eric – what an amazing role model you have been to your sons! You are a whirling dervish and this site will be your new masterpiece!

wemerson Says:


WOW! What a great website. I can't wait for future
products and stories!

Marlene H. Gaston Says:


Bonnie….you are so right….if you LOVE…chocolate…what a treat…I can hardly wait to try this.

You and your sons….have hit on a winner with this site….can hardly wait to try your receipes and participate in the comments.

I saw you this morning on KOLO TV RENO…talking with Dinita….I only got the last bit of your interview….but you caught my attention….LOVED the idea about taking time at work and making your desk an inviting place to take time to eat….We just don't do that anymore….so sad that everything is ALWAYS…on the run! ! !

Thank you for thinking up this wonderful site along with your sons….It cannot help, but be a wonderful contribution to all of us out there….LEARNING…TO TAKE A LITTLE TIME FOR OURSELVES…

THANK YOU
Marlene

Jen Walsh Says:


Thank you for recommending Angelina's hot chocolate. I was in Paris earlier this month and made a trip to Angelina's a priority after reading this bite. I can't even begin to describe how divine and memorable this drink is, especially after a long day of sightseeing.

Thank you!

Bonnie Tandy Leblang Says:


Can any of you help Darlene who emailed me with this quandary??

I did suggest to her that she contact Angelina's directly…

HELLO,
I HAVE A CHOCOLATE AND ICE CREAM SHOP IN, I HAVE BEEN CARRYING ANGELINAS COCOA FOR AROUND 5 YEARS NOW AND MY DISTRIBUTOR IS NOT GOING TO WAREHOUSE THE PRODUCT I AM DESPERATELY IN SEARCH MY CUSTOMERS ADORE IT AND SO DO I , IT WILL NOT BE THE SAME WITHOUT IT
PLEASE…..CAN YOU GIVE ME SOME HELP
GOD BLESS YOU
DARLENE

j.B. Goodwin Says:


It was fantastic. I want to go on line and buy some. How do I find it and order it.

Bonnie Tandy Leblang Says:


J.B., I've yet to find it online. (If anyone knows where to buy Angelina's on the web, please post that!) I'm guessing you might just need another trip to Paris to sip a cupful there.

Christine Says:


Hello,
Stumbled onto your site and just had to comment on the bliss that is Angelina's hot chocolate (currently 6,90 in euros- about $10.75 a serving). The good thing is that you can definitely get a few cups worth from each serving. Savor it…

Debbie Says:


A friend took us to Angelina's toward the end of our stay in Paris three years ago. We berated her for not taking us sooner, as we had so little time to return–and we HAD to have another cup of hot chocolate. It is definitely like a melted chocolate bar, but even better (with the ambiance, after all, wouldn't it be?). We have recommended it to friends, and now we are heading back over. We can hardly wait for a few more trips to Angelina's. It's definitely something special.

Bonnie Tandy Leblang Says:


I've suggested Angelina's to every friend heading to Paris — the perfect respite after a long day at the Louvre. Expensive? An understatement. But savoring one cup of their melted-chocolate is worth every savoring sip.

Rhona Brenner Says:


How can I get the ingredients for the hot chocolate?

Lizann Says:


I've finally found it. I've been looking for so long!

Here you go everyone!

Laurie Says:


I love Angelina's. First time I had their hot chocolate I was 15, and it was 1985. I always send people there for the hot chocolate when they are visiting Paris. And always a convert is born with the first sip! I have been lucky enough to be kept in stock of the Angelina's Hot Chocolate, as in exchange for the experience, my grateful travellers always bring me back a few bags! If only I could purchase it online, I would never have to fear running out! Although it's not the same as being there, it does help!

Judy Says:


Lizann, thanks for the website. I was just looking for the recipe today. My friend just emailed me from Angelina's. She is in Paris for a week. I went to Angelina's 2X during the week I was there (in Nov 07) I am not a chocoholic, but the hot chocolate blew me away!!

Rhona Brenner Says:


Where can I buy Angelina's cocoa? Is there an online place to get it as Angelina's website doesn't have an order form.

Bonnie Tandy Leblang Says:


Rhona, if you scroll up Lizann (on June 26) offered a website where Angelina's can be purchased. I'm verifying with Cafe Society (the company that she mentioned) that it is from Angelina's. Stay tuned!

Joan Says:


Hi Bonnie,

It is true! I sell Angelina's chocolate chaud on my Cafe Society webstore cafesocietystore.com.

Additionally, I sell the most amazing French tea that is as fragrant as French perfume and as elegantly composed. It is called The des Ecrivans and comes in flavors dedicated to the authors of different countries of the world.

Here is the url for the page with Angelina's and The des Ecrivans:

cafesocietystore.com/showroom_sale.html

Your website is terrific and I wish you all the best!

Joan

Joan Says:


Angelina's alert! I am almost sold out of Angelina's chocolate chaud and will not be reordering. So sad but the Euro and shipping now make it too difficult to continue importing this amazing hot chocolate.

Food and Product Reviews – Holiday Food Gifts – 2009 – Food Blog | Bite of the Best Says:


[...] Hot chocolate that rivals Angelina's. Wrap with a fun [...]

Joan Says:


Cafe Society is officially sold out of Angelina's and unable to bring any more in to the US. Dommage! But I do still carry wonderful tea from France called The des Ecrivans which is to tea what Angelina's is to hot chocolate: cafesocietystore.com

Cynthia Says:


My family and I were in Paris over Christmas-time. Our first day there I had a bit of a cold. We had just finished walking through the louvre when my dad said, "Hey maybe we'll check out that great hot chocolate place i hear about!" So off we went towards our hotel to the front doors of Angelina's. At that excact moment I knew my life was gonna change. We waited about 5 minutes until we walked in what I call Heaven on Earth. We sat down at a table and read the menu. I ordered one hot chocolate and a croissant. 5 minutes later I poured my hot chocolate out of the pitcher and into the delicate gold-framed cup. It was just so delicious. Scrumptious! Almost like drinking a candy bar out of a cup. It was pure chocolate. Not like the chocolate water that we sell in America. I knew that I was addicted to Angelina's hot chocolate from then on. It was just so good!!!!

Chocolate-Food of the Gods « Adventures of a Wandering Kitchen Says:


[...] Angelina (Paris , France) – baroque tea room and its chocolat africain is so thick you can eat it with a spoon [...]

Deanna Scholz Says:


I took my 11 year old daughter there on our way from from living is Switzerland for 6 months. It is the cup "cocoa" we think of most. Sometimes it is not just the luscious hot chocolate they served but the time we spent together sharing.

Food and Product Reviews – Chocolates Valor, Valor Chocolates, Taza To Go – Food Blog | Bite of the Best Says:


[...] but theirs is a very different concoction from ours. For any readers that might have been to Angelina's (Parisian chocolotier), you might know a thing or two about rich chocolate drinks… and this [...]

Marilyn Fehrenkamp Says:


The best hot chocolate I ever tasted in my life! Go every day if you can!

JANIE SPILLER Says:


My Daughters friend is from Paris and she recommended this outstanding JEWEL of a place. It is the BEST chocolate we had ever had. I am a sucker for white chocolate and no let downs there. We will return to PARIS AND "Angelina's Hot Chocolate" hopefully soon…

veronica Says:


I have been to Angelina's…a long time ago. Paris was my graduation gift. I loved Paris and will never forget my time there. But I still rave to people about my hot chocolate expereience at Angelina's. I even kept my napkin from Angelina's! One day, I will visit again.

GG Says:


I loved this place and I 'll be there as soon as possible.

Grace Ellis Says:


Where can I buy Angelinas Hot Chocolate to give as a gift for someone?

Leslie Says:


I first savored Angelina's Chocolat Africain, as their insanely rich and equally delicious hot chocolate is called, about 9 years ago and the taste lingered in my memory for several years … my husband took me to Paris in September for a "big" birthday (I said I wanted to sip champagne at the Eiffel Tower on this significant milestone day); but just as important, I wanted to return to Angelina's for a cup of chocolat Africain. It was just as wonderful this time around as well! It's a sweet treat not to be missed if you're in Paris.

Myles Says:


I LOVED IT SO MUCH.I TELL ALL MY BUDDIES TO GO THERE!!!!

Daniel Says:


it sucked. i hated it…NOT

Francine Carbonneau Says:


Hello—Would you please tell me how I might purchase some Angelina hot chocolate and mugs for a gift?? Thank you.
Francine

Bonnie Tandy Leblang Says:


I wish we knew where you could buy Angelina's hot chocolate as a gift — but unfortunately the only place I know of is at 226 rue de Rivoli, 1st Arrondissement, in Paris – at Angelina's. So tickets to Paris would be the pricey gift —

tammy Says:


Is Angelina's open on New years Day?

Elizabeth Says:


Anyone who says Angelina's chocolate sucked…..has never been there. It is without question…The most fantastic hot chocolate in the world. Anyone who goes to Paris….Don't miss your chance. My husband and I loved it.

Wynona Says:


This is the best. They need to open a chain in the u.s.!

Elise Jay Says:


RIght at this moment the girls I au paired in Paris ('82-84) have texted me from ANGELINA's where they are no discovering this wonderful Chocolate Africain.

I am so with them in spirit and know that everything said above is So-So- TRUE!!

May the experiences of travel live on — and ANGELINA's always be there to share with future generations….

RICK MIOLINI Says:


ANGELINA LOVE I WANT YOU TO KNOW AND THAT IS YOU ARE MY VALENTINE AND THE BEST OF RICK DENVER SING OR TALK THE SONG AND THAT IS THIS SUNSHINE ON MY SHOULDERS AND IT IS FOR YOU ONLY THANK YOU

The HiP Paris Blog » Blog Archive » Help an American Girl in Paris Says:


[...] she'd die (quelle horreur!) if I returned without enjoying a chocolat chaud (hot chocolate) at Angelina's on rue de [...]

Help an American Girl in Paris Says:


[...] she'd die (quelle horreur!) if I returned without enjoying a chocolat chaud (hot chocolate) at Angelina's on rue de [...]

Cher Says:


I will be going to Paris shortly. Whats the current price of the Hot chocolate?

Bonnie Tandy Leblang Says:


Whatever the price – it's worth it!
How about reporting back with the updated price when you return

Phil Prohow Says:


I go to Paris often, & one of my first stops Is Angelina's. I tell people about it often, & when i go back, I plan to take several friends who live In Paris, & have never visited there.I've been to many great choc. places in the world, but none equal Angelina's. It's #1 In the world for great hot chocolate!!

Richard Gunn, Malaysia Says:


I went to Angelina's for the hot chocolate on a cold spring day and besides the sights, sounds and shopping, the drink captures the taste and part of the soul of Paris.
The bitter sweet taste thickened with cream at your pleasure evokes fond memories and pleasure whenever you have a cup of hot chocolate anywhere else in the world.
This moment of enjoyment can only be recommended from another who has had an Angelina's hot chocolate.

John Incampo Says:


My wife and I were treated to a week in Paris by our children for our 30th Wedding Anniversary this past September. Our oldest daughter, knowing the chocolate addict I am, told my wife: Daddy has to go to Angelina's even if he has to wait on line. It was one of our first stops in Paris, we went twice-both times beating the crowds. It was a fun experience and the Chocolat Africaine was definitely something to enjoy. Angelina's will always be part of a wonderful trip whose memories will last a lifetime.

claudiacarrion Says:


necesito informacion

Cher Says:


I got back from Paris 3 weeks ago and OMG the hot chocolate was to die for. We left going there till the end of the day. We all were tired and had to walk quite a bit to get to the shop. One sip and all the pains and tiredness disappeared like magic. Awesome hot chocolate. I would go back to Paris just for that….
Oh and the price is now 4.2 Euro for a take away cup.

CoreyTess Says:


OMG! My favorite place to chill out in Paris.. i love the hot chocolat and the decor.. the pastries are good too, but that hot chocolat, it is addictive!

Phil Prohow Says:


It's been a month since my last trip to paris, & I hope to go back In 5 or 6 weeks. But since there's no hot choc.In Fla. to compare with Angelinia's, I brought some bottles back home from there.Angelina's now sells glass bottles of choc.weighing 15.4 oz. . Just be careful In packing the bottles,to put in your luggage. I had a small case just for choc. I'm taking my time In drinking It to last until I can get back to Paris. It costs a lot, but as anyone who has ever tasted it knows, It's worth it.Here's to Angelina's. May they be In business for many more years to come!!!

Rana Farhat Says:


Les Directeurs du cafe ( Angelina's Hot Chocolate) nous avons lu de votre cafe dans l'internet , il nous a beaucoup plu,et nous aimerons bien ouvrir une branche chez nous a kuwait en cooperant avec vous . nou esperons recevoir votre reponse , avec tous nos respects .

Gail Conlin Says:


When I was in Paris a few weeks ago, we went to Angelina's everyday for hot chocolate. It is incredible!!! I bought 2 packages of the Angelina's hot chocolate grounded milk chocolate and it is almost gone. Is there a way I can buy it from you and have it sent to the states?

Peggy Says:


Do you know how I can buy Angelina's granulated milk chocolate mix from Angelina's restaurant in Paris?

Thanking you in advance for your help.

Peggy

Bonnie from BiteoftheBest.com Says:


Gail and Peggy, we wish we did know of some place where you can purchase this wonderful hot chocolate! If we ever find a reliable source, you can be sure we'll post it here for everyone.

Keith Wollenberg Says:


Good News! I finally found a source in the US for Angelina Rumpelmayer's chocolate. The French Cellar in Los Gatos, CA. http://www.thefrenchcellar.com

They are not cheap, but they have to bring it from France themselves. I have no affiliation with the store, although I know the owners from the wine business in San Francisco. Very nice people!

———————–

Angelina Rumpelmayer Chocolat en Tasse

Named after his beloved daughter-in-law, Antoine Rumpelayer opened the doors to his first salon de thè on the Rue de Rivoli in 1903. By conceiving a special drink for children, as the judicious French never believed tea was suitable for them, he began a tradition and elevated it to an art form, with the ritual of pudding-thick bittersweet chocolate with rosettes of whipped cream, served in white china cups. This powdered sachet of Chocolat L'Africain is offered in only one size:

Small 14 oz/400 grams $45

mp Says:


Keith you MUS be from The French Cellar… as I just went to their site — and don't see Angelinas anywhere!!

Jetsetter Passport » Top 5 Ways to Spend Valentines Day…. Love, Jetsetter Says:


[...] spent the night. Something special? Fight the lines and order a super-rich cup of hot cocoa at Angelina's on Rue de Rivoli, equidistant between the hotel and the Louvre. Take Paris in over dinner at the [...]

Samantha Says:


I went to Paris on a trip over christmas vacation knowing that I was going to go to Angelina's for their famous African hot chocolate and macaroon… it definetely lives up to its name!! I think it is the best hot chocolat I have ever tasted. What a great treat after walking through the Louvre and shopping!

Frank Says:


I took my A#1 daughter. It was her senior year in High School. As all dads know, things change with daughters once they leave the house. This was our celebration. Part of our Paris experience was Angelina's.
Unbelievable. I'm so thankful for that wonderful memory.

Yes, Paris Is Incredible. The Kids Have Confirmed It. …Part Three. | dalleyfamily Says:


[...] the chocolate to the milky-ness that you specify– it is insane. I quote the adult child of a travel writer who first visited Angelina's when he was eight: "It is the epitome of a chocoholic's [...]

Kimberly Johnson Says:


My sister and I just got back from Paris and we discovered the Angelina Cafe by accident. The travel agency we were with was on the Rue de Rivoli and one of our tours was running late so we went to Angelina's to get a cappuccino and a snack while waiting. It was the best travel experience ever. We have been all over Europe and nothing compared to the Croque Monsieur sandwich and Angelina Hot Choclate that we got there. I bought a bottle of the hot choclate at the Laffayette Shopping Center and have been telling everyone about it ever since I got home.

Spotlight: Kelsey Drapkin | SCSS Sycamore Community Summer Singers | Linda Gartner, Cincinnati Ohio Says:


[...] also quite excited to again visit my favorite hot chocolate shop in literally the entire world: Angelina's in Paris.  It's like drinking a Hershey's bar….but [...]

Tommy Says:


I've had Angelina's, and I will never be able to have a cup of hot chocolate anywhere else!

diane Says:


wonderful and well worth the trip and $$. been going there several years. unbelieveable hot choolate with fresh whipping cream on top. a real treat
worth the trip to paris

Rachel Says:


On Angelina Paris website (http://www.angelina-paris.fr/) it says you will be able to order online "soon", however, for now you can buy it online at the Château Versailles boutique (http://www.store-chateauversailles.com/) under Kitchen and tablewear. It will cost you about $38 to get it to the US though.

Alejandra Says:


I went to Paris with my 13 year old daughter to celebrate my 40th birthday. We stayed at the Westin hotel which is less than a block away from Angelina. Needless to say we had hot chocolate and a croissant for breakfast everyday. We absolutely adore the place. It is really a must when visiting Paris. Luckily we walked for hours everyday so a nice cup of hot chocolate was all the fuel we needed. We will always remember that trip and Angelina will always be a part of such fond memories.

Next Best Thing To Paris | CHOCbite Says:


[...] Specifically at Cafe Angelina? [...]

Kristi Tarabolous Says:


We recently returned from Paris with our 2 sons and daughter-in-law and made a stop at Angelina's. What a treat! Our daughter-in-law described it perfectly, as have so many others, the hot chocolate is like drinking a chocolate candy bar. I myself am not a chocolate lover but I have to say Angelia's was exquisit. Our three children returned to the states, my husband and I continued our Paris stay. We took in Versailles and made it a must to have hot chocolate at Angelia's at the Chateau as well. Angelina's was definitely a highlight for all of us from our Paris trip.

Anita Says:


We tried Angelina's inside Louvre, on our way to Napoleon III apartments. Great view from the cafe too.

Bonnie Says:


Didn't know that there was an Angelina's INSIDE the Louvre… Do you know when that opened? Is it a full restaurant or just a coffee – I mean chocolate shop?

Anita Says:


A restaurant with pretty modern look. Not sure when it opened though. You can see the pic here
http://www.angelina-paris.fr/#/AdressesMuseeduLouvre/

mfcarbon Says:


Is there a web site to purchase their products yet???

deborahsmalls Says:


I had to share this particular article, "Angelina's Hot Chocolate | Bite of the Best" along with my own pals on fb.
Ionly just desired to distributed ur great publishing!
Regards, Allison

margaret Says:


Ah, Angelina's in Paris….the hot chocolate was so luxurious that I begged any one who was visiting Paris to have pity on me and asked them to bring back some chocolate en tasse…..I ration it out at home and imagine my self back at Angelina's…..ah luxury

Bonnie from BiteoftheBest.com Says:


Wouldn't you think by now — some smart person would make a deal with the owners of Angelina's and sell a hot chocolate mix? Wishful thinking!

Kimberly Johnson Says:


This message is in reply to Bonnie from BiteoftheBest.com– Angelina's is actually sold in stores in Paris. You can get the hot chocolate in either powder form in a can or packets or you can get it in liquid form in a bottle. I am pretty sure you can buy it from Amazon.com as well.

Bonnie from BiteoftheBest.com Says:


Kimberly,
Thanks for your comment.
We know (as others on this conversation have mentioned) that Angelina's is sold in stores in Paris. But I have looked — and keep looking — on Amazon and sadly it is not sold there. Guess we need a trip to Paris (or have a friend who is going) to get our fix of hot chocolate!

Kimberly Johnson Says:


Bonnie,
Have you tried Monoprix? That is the wholesale food store in Paris where my sister and I found the Angelina products. They have a store website you can order from.

Bonnie from BiteoftheBest.com Says:


Thanks for that suggestion. I checked and believe that Monoprix does not offer it online!
So many people would like it – might be wise for someone to offer it!

sabrinawatterston Says:


Αmmazing website Amélie

Sean Says:


If anyone is still looking I found it available here:

http://www.edelices.co.uk/teas-coffees/chocolate-angelina/old-style-hot-chocolate-powder-angelina.html

They have a few items from Aneglina's there including both the powder and liquid hot chocolate. Hope it helps!

Bonnie from BiteoftheBest.com Says:


thanks for sharing

hotel chocolat interview questions | Cek Hotels Says:


[...] Angelina 's hot chocolate | bite of the best Bonnie: for years i've been sending friends heading to paris to angelina's for hot chocolate. i've only gotten raves back. back up to 1992. there i. Tweet « Prevhotel chocolate west quay [...]

Judy Says:


I just happened to be reading about Angelina's Hot Chocolate and stumbled across your page. I realize it is several years old, BUT I live in NYC, and Angelina's Hot Chocolate is carried at Bergdorf Goodman. It is sold on the 7th floor in the candy/gift section.
It is not online, you will have to call the store. The price is over the top CRAZY, $45, but buy it and save it for a special treat. The shipping is free.
If u need any more info., feel free to email me.
I had a gift card to the store, so I splurged and purchased 2 cans.
I hope u receive this, as your " thread is so old."

Bonnie from BiteoftheBest.com Says:


Judy,

Thanks so much for sharing… You are right our thread IS old, it's been going on since 2007… but each person is passionate about Angelina's!

Bonnie from BiteoftheBest.com Says:


Thanks for sharing!

Judy Says:


It's my pleasure. I am a fanatic about my hot chocolate, especially since I do not drink coffee or tea. If I can impose another favorite of mine, although I don't wish to undermine the purpose of your thread here….
SPRUNGLI CHOCOLAT CHAUD. This is from Zurich. When I go there, I bring home, seriously, 8-10 packages. I'm always afraid the airline will think I'm up to something!!
However with SPRUNGLI, you may order online.
My " formula" is 2T Sprungli and 1T Angelina's. EVERY MORNING.

JohnI Says:


Thank you Judy. Wonderful to get these comments occasionally about Angelina's.

Marilyn Fehrenkamp Says:


I was able to order Angelina's Hot Chocolate online a few minutes ago! http://www.bergdorfgoodman.com/Angelina-Hot-Chocolate-Powder-Angelina/prod110530099_cat474700__/p.prod?icid=&searchType=EndecaDrivenCat&rte=%252Fcategory.jsp%253FitemId%253Dcat474700%2526pageSize%253D30%2526No%253D0%2526refinements%253D&eItemId=prod110530099&cmCat=product
United States, free shipping, $44 + tax
You can also order directly from Angelina's website, 18.5 Euros, but I had trouble with the website and didn't want to set up an account, but they may not ship to the U.S.http://www.angelina-paris.fr/en/hot-chocolate/9-lait-au-chocolat.html

Bonnie from BiteoftheBest.com Says:


Ditto to JohnI comment — to me nothing could match the thick drink at Angelina's, it's almost like drinking a melted chocolate bar!
Rate This Product
Mouseover the crowns to highlight your rating and then click to record your rating. The rating shown is the average of all the user votes. You can only rate each product once.
Leave a Comment or Write a Review
Posting Policy
Bite of the Best encourages our readers to comment on and review any products that we write about. Please express your opinions in a mature and civil tone of voice. We will not post rude or otherwise inappropriate material on Bite of the Best. We look forward to your comments and reviews!