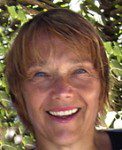 Bonnie: David Perkins, proprietor of High West, the gastro-distillery on Main Street in Old Town Park City, Utah, recently introduced a one-of-a-kind blend of smoky scotch, fruity rye and sweet bourbon whiskeys that he calls Campfire Whiskey. He named it in celebration of the western tradition of cow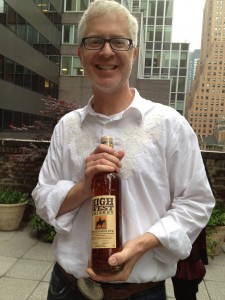 boys winding down their day around a blazing campfire, where they warm up, swap stories, deepen friendships and share spirits.
David, who moved to Park City about eight years ago, combined his knowledge as a biochemist with his love of bourbon and cooking and his passion for the American West to bring the craft of sm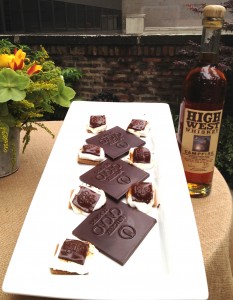 all-batch distilling back to Utah. High West is the state's first distillery since the 1870s.
I first sampled Campfire Whiskey at a Taste of Utah event on a Manhattan townhouse rooftop when David, along with his executive chef, James Dumas, provided samples High West's food and libations, and shared his love for food, Western lore and the making of whiskey. David suggests enjoying Campfire neat, on ice or even in cocktails. I recommend skipping his mixed cocktail idea so you can be sure to savor the long, sweet, spicy and smoky finish of this unusual whiskey.
In campfire tradition, David served s'mores with the Campfire Whiskey at his Stillpub. The decadent treats consisted of house-made marshmallows and graham crackers from a High West restaurant, along with Millcreek Cacao Roasters' chocolate. A perfect match.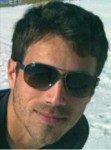 Bryan: Park City, Utah… one of the most magical places on Earth. Truly a ski-Mecca, Park City offers access to seven of the country's greatest resorts, airy powder snow unlike anywhere else on earth, an amazing après-ski centered town with fantastic dining options… it's heaven. That is, unless booze is your thing. Park City is an island (not really) inside of the crazy state of Utah. Though it has "resort-town" running through it's veins, it also has "LDS" on the brain, making drinking a very interesting affair.
More than a decade ago, I actually lived in Park City. Though the state is still quite strict in regards to liquor laws, it has come a long way since the days when technically you couldn't get a drink in a bar on Main Street without being "sponsored" by a current "member" and paying a membership fee. It was my European cousin (he grew up in Belgium), who really let me know the laws were strict when he told me he was fined and almost arrested for serving somebody a "double." Though this would be a normal thing to do almost anywhere else in the world, it was actually a fineable offense in Utah. This is state that spawned the "Wyoming Keg Trip," a driving adventure across the border in order to buy kegs, which you can't in Utah, and get "real" beer since Utah beer was all 3.2 percent.
With all that in context, the High West Distillery & Saloon is simply remarkable. This is Utah's first active (legal) distillery since the 1870s. I don't even want to know what it had to do to get its licenses! Beyond simply churning out booze, High West also doubles as a gastro-saloon (love that term!) and is the world's only ski-in distillery. Quite a unique establishment.
High West makes a number of whiskeys, mostly rye whiskeys. Okay, so we now come to the Venn diagram to explain whiskey (or whisky). Oh lord, we've already found a divergence. Whiskey is hard to understand sometimes, with almost as many rules and regulations about what is what as that of European wine. Whiskey, at its core, is a distilled beverage made from fermented grain mash. There are many different grains that can be used, creating different varieties of whiskey. Depending on whether the distiller uses barley, malted barley, rye, malted rye, wheat, or corn, you'll end up with a slightly different type of whiskey. Rye, scotch and bourbon are just different iterations of these ingredients. They're all "whiskeys," though scotch is spelled "whisky," but none can really be the other. You know what, just Google 'whiskey' if interested; it's a lot to explain!
So what's so really interesting about Campfire? Well, it's a whiskey, but it's actually many whiskeys. A bourbon cannot be a scotch, a rye cannot be a bourbon, but what do you get if you mix all three? You get High West's Campfire Whiskey, a unique mix of bourbon, peated scotch and rye. The keystone flavor is certainly the sweet bourbon. This booze is definitely more Kentucky than it is Highlands, and I personally love that. I'm a big bourbon fan, but generally not a scotch fan. That being said, I love to see where they meet, like the estuary of whiskeys! The sweet, corn-based bourbon is enhanced with a floral spice gleamed from the rye whiskey, further flavor-heightened with hints taken from the smoky peated scotch whisky. This is just pure whiskey goodness and I'm a bit tongue-tied to describe it (possibly as I've been sampling it all night). I'm a bourbon man, but I think I finally found the smoky enjoyment of scotch that my "scotch friends" always claim. While it's just too much on it's own, when blended elegantly with my old Kentucky home it's just magical — just like it's hometown!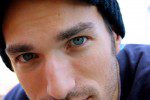 Eric: I enjoy the occasional weekly glass of whiskey. Actually, I am joking with you; I enjoy the occasional weekly bottle of whiskey, and just like many notable men of History, it is usually part of my daily routine. Now some might scoff at the idea — shouting "drunkard" from the rafters — and all my response would be, "So be it." We are a nation born of indifferences (our settlers, the Puritans, might agree…) and we also are a nation born of alcohol — during the 1800s there were thousands of distilleries that littered the landscape. Now, due to many events throughout history — mainly the 18th amendment, AKA "Prohibition" — the number most likely has dipped into the hundreds…
I have the privilege of referring to High West Distillery & Saloon as my local bar. Unique in its location and its decor, High West is my learning ground for the world of spirits. For me, it all started with its "Bourye" — an incredibly smooth blend of bourbon and rye whiskey. I like to pride myself on my knowledge of spirits, but for those unfamiliar, bourbon is distilled from a mash of at least 51 percent corn (High West's is 75 percent corn), yielding a "sweeter" spirit. Straight rye whiskey is distilled from at least 51 percent rye (High West's is 95 percent) yielding a nuttier, fruiter taste. Combining these two styles of alcohol produced High West "Bourye" — a whiskey that I will not soon forget (as it was discontinued and replaced with "Son of Bourye," a younger version of the original).
To take its infatuation with blending to the next step, High West recently released its Campfire Whiskey, a blend of bourbon, rye whiskey and scotch. This stuff is from another world. It's almost overkill for your senses as you try to distinguish the different flavors — the peated scotch sits on the forefront of the palate while the sweetness of the bourbon soothes the "heat" of the whiskey. Campfire Whiskey was originally designed to pair with the sweetness of High West's infamous s'mores dessert, and for good reason. The flavor match is one-of-a-kind. The elements of the dessert almost match perfectly to the whiskey. The sweetness of the marshmallow pairs with the bourbon, the chalky chocolate pairs with the peated scotch, and the graham cracker — well, that's just rye in cracker form. But dessert aside, High West Distillery Campfire Whiskey is a tribute to whiskey aficionados everywhere, and certainly will be gracing my shelf for years to come.