Stonefire Authentic Flatbreads has teamed up with the popular TV show Hell's Kitchen to introduce a new challenge to home cooks. Can you come up with the most creative recipe using their Stonfire Naan, Roti or Pita?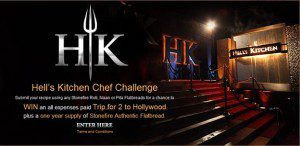 It's certainly worth a try, as the grand prize is an all-expense-paid trip for two to dine in Hollywood (airfare included) as well as a one-year supply of Stonefire Authentic Flatbread products. Want more? Need celebrity? Well, the winning chef's recipe, name and photo will also be featured on the back of Stonefire's new product packaging.
Contest entries will be accepted online at www.stonefire.com through May 2012. One grand prize will be awarded in each flatbread category.
Come on Bite of the Best readers, represent! I want some winners!