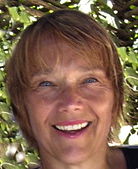 Bonnie Cincinnati natives and visitors have known it.  And their friends and relatives have heard them rave about Graeter's ice creams, especially the signature eye-catching, berry-colored Black Raspberry Chocolate Chip.
The fourth generation of Graeter's makes this ice cream just as Louis Graeter did in 1870, using a French Pot method. It's a small-batch way (they tell me that's only two gallons at time) of making creamy ice cream with a dense texture. In other words, it's not full of the air found in other ice creams.
Graeter's combines fresh cream and egg custard, then adds fresh, quality ingredients to make irresistible ice cream like its Black Raspberry Chocolate Chip, today's FeaturedBite. It's made from Oregon black raspberries and contains huge chucks of chocolate.
I've almost broken a tooth on other ice cream's frozen chocolate chunks, but not Graeter's, as their chocolate is actually soft. Their publicist told me that's because Graeter's adds some soy oil to the liquid bittersweet chocolate just before it's poured into the French Pot, as the ice cream is finishing. The result is soft chunks of chocolate in every bite.
We also sampled Graeter's Chocolate Chocolate Chip and Mint Chocolate Chip — two of the Bite-of-the-Best team's all-time favorite flavors. Both are creamy, rich and could be addictive, but we three agreed to feature Black Raspberry Chocolate Chip. Although we haven't tried them all, I feel confident to suggest any flavor!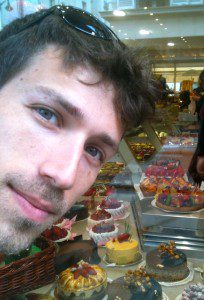 Bryan: Leave it to your friends to have the best recommendations. This is the social age (as you read this blog), is it not? So, kudos to my friend Alex, who has sung the praises of Graeter's Ice Cream for almost as long as I've known him. Today, your recommendation is official.
The discussion actually began over a product called Skyline Chili. You may or may not have heard about it. It is apparently a Cincinnati staple, but to me was just another food name I had never heard before. I initially thought it was a style of chili indigenous to the city, but I found out it was a brand of canned chili usually served over spaghetti, a style of chili eating I was unfamiliar with as well. Learn something new.
I was curious what other regional delights I was blissfully unaware of and was strenuously informed that I simply had to try Graeter's Ice Cream, specifically Black Raspberry Chocolate Chip. This was not a suggestion, but a ringing endorsement bordering on an order. I was told that this delicious ice cream, another Cincinnati specialty, was available to me in Atlanta via Kroger Supermarkets (also a Cinci native).
Though I put it off — how good can an ice cream be, I thought? — I did finally take up the Graeter's taste test, and I'm so glad I did. Thank you Alex. This is creamy, rich, smooth and decadent. This is amazing ice cream. This is a Bite of the Best.
Graeter's has been at it since 1870, making French Pot Ice Cream, handmade chocolates and fresh baked goods. Over the years, the company has absolutely perfected the traditional French Pot production method, making its decadent ice creams just two gallons at a time!! That is simply absurd by any commercial consideration!
On top of its almost OCD production process, the company also uses only the highest quality ingredients. Graeter's uses fresh cream from milk produced without the use of artificial growth hormones (rBST), 100 percent cane sugar, and no hydrogenated oils or trans fats. Don't even think about artificial flavorings either. Graeter's uses premium, hand-selected Oregon black raspberries and strawberries, 100 percent Arabica coffee beans and real Madagascar vanilla in its products.
This is real premium ice cream, and at an amazingly reasonable price (about as much as Ben & Jerry's). Though Black Raspberry Chocolate Chip is the company's cult star, the flavor list goes on and on. Black Cherry, Caramel, Strawberry, Cookies 'n Cream, Coffee, Elena's Blueberry Pie, Butter Pecan, Chocolate, Vanilla, Chocolate Chocolate Chip, Mocha Chocolate Chip, Toffee Chip, Coconut Chip, Chocolate Coconut Almond Chip, Chocolate Chip, Mint Chocolate Chip, Peanut Butter Chip, Cookie Dough and Buckeye Blitz (chocolate ice cream with a peanut butter swirl, peanut butter cookie dough pieces and chocolate chips).
Drooling? Agreed. Try some. I'm paying it forward.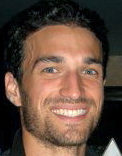 Eric:: I've never indulged in ice cream as fast as I did when I popped the top on the Graeter's Chocolate Chip. The written word can barely describe how delicious this product truly is. Sure, it's ice cream, but in my opinion, it's more than that; it's ice cream with purp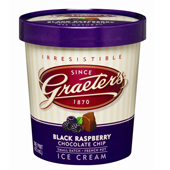 ose.
Small batch translates to hands-on craftsmanship, and unlike other types of "unique" products, Graeter's price point is comparable to that of the mass-produced ice creams. The flavor profile of each batch is noteworthy, but the real magic lies within the luscious chocolate chunks – they're like butter, and the tunnels in each of my pints is the testament to that fact. Don't doubt; rather, indulge.