Bonnie:
My holiday gift from Robin Miller — of Food Network's Quick Fix Meals and my client when I don my talent agent hat — was a box overflowing with a plethora of her favorite local Phoenix-area foods.There were lots of goodies including spicy nuts, hot sauces, honey, olive oil, Parmesan crackers, jellies, mustard, tomatillo salsa and small bags of GoodyTwos Nutty-Twist, Traditional and Double-Crossed fresh toffee.
The toffee was the easiest to sample, so I reached into one of the bags and broke off a snippet to try. I didn't expect to like it, as when I bite into most toffees I always think I may break a tooth. That, and it sticks to your teeth.
But that snippet had me taking another and another, as it's really irresistible. I shot off an email to Robin that I was cursing her all morning — the toffee was so delicious.
Normally when we select a product as our FeaturedBite, we only feature one flavor. But Bryan, Eric and I found all of these delicious — as did all the lucky folks with whom we shared the samples.
For the month of February, Stacey — the daughter in the mother-daughter duo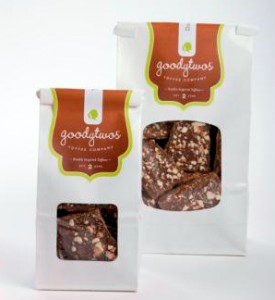 behind GoodyTwos — is offering Bite of the Best visitors a 15% discount on all orders. Shipping, BTW, is $10.95 for up to 2 pounds to anywhere in the US.
Bryan: GoodyTwos Toffee Company. "Who?" I asked. "They're a mother/daughter team based out of Arizona," Bonnie said. "It's very small-batch stuff. They're a specialty producer, and I think we should try them out. Just let me know what you think."
I definitely let her know what I thought — and quickly. I got the toffees in the mail and was in my email only minutes later. "These are fabulous," I proclaimed. "We should absolutely do a Bite about them, maybe for Valentine's Day."
"I've already scheduled it for the Valentine's Bite," Bonnie's reply stated. She had come to the same conclusion, and ahead of me this time…. We'd both thought the same thing: GoodyTwos is just Too Good not to share!
The toffee is great, but the "About Us" is really inspiring, as well. GoodyTwos Toffee Company did not start as a mail-order producer. There is an actual shop. You can find the wonderful producers of GoodyTwos Toffee in Scottsdale, AZ, plying their trade and selling their wares at 10953 N. Frank Lloyd Wright Blvd., Suite 105. The little shop is cutely adorned with the GoodyTwos Toffee Company's logo; a Victorian-style double-profile silhouette… mother and daughter facing each other with a halo gently floating above them. The image seems to epitomize the best aspects of their homemade toffee, antiquated decadence with a sublime, heavenly touch.
All GoodyTwos Toffee is made from scratch — handmade from scratch, that is. The small batches are crafted from an old family recipe. Just about everything with GoodyTwos is done in the old fashioned way (well, they do have a website, but c'mon). The toffee is made from absolutely pure ingredients, including organic cane sugar and fresh creamery butter. This amazing confectionary is slung by the pound (you really can't eat just one bite), and whether it's a quarter-pound, half-pound, or one-pound bag, GoodyTwos Toffee delivers a quality chomping experience.
The most memorable part of my particular toffee experience was certainly GoodyTwos' signature gift box. GoodyTwos will take your (or your sweetheart's) favorite toffee flavors and wrap them up in signature white boxes, delicately decorated with brown and lime ribbons. The best part is that there is no flavor confusion here. You don't have to choose just one flavor for your box! Gift boxes can be divided into a number of flavor combinations, making choosing your favorites even easier! Singles, Duos and even Four'evers variety options make almost anything possible.
My Duo was "Nutty Twist" and "Sweet and Salty." But what flavors would end up in my "Four'ever" gift pack?
Nutty-Twist: A sinful creation with a twist of lime and tequila. Fresh macadamia nuts and sweet almonds, Cruz Tequila, tangy lime, creamy white chocolate, all teased with 72% cacao pure dark chocolate.
Crème de la Crunch: Fresh pecans and almonds, velvety coffee liqueur and smooth white chocolate, covered with crushed pecans.
Sweet and Salty: Sweet fresh almonds, Madagascar Bourbon vanilla, 72% dark Belgian cacao chocolate, all smooched with French coarse sea salt.
Cinnfully Hazelicious: A decadent balance of delicate hazelnuts, hazelnut liqueur, Saigon cinnamon, creamy milk and dark chocolate, all covered with more chopped hazelnuts.
And hey… I'm throwing in a fifth. (Why mess with perfection?)
Traditional: Rich, buttery goodness with Madagascar Bourbon vanilla, 72% dark cacao and Belgian milk chocolate, rolled in almonds. What else do you need?
Eric: My brother already has boasted about these delicious (and I repeat, delicious) pieces of toffee, and I would be doing the same if it were not redundant.
I've never been a fan of toffee — it usually sticks to my teeth or has this chewy quality that leaves me unsatisfied — but GoodyTwos Toffee was almost like a new confectionery creation. I had never tasted such "deliciousness." I was so smitten by this toffee, that I brought a bag (Cinnfully Hazelicious) in for the pastry chef at the restaurant I work at – a place revered for its desserts – and within moments, the bag was gone. It was the first time I had heard the kitchen quiet; everyone was enjoying a piece of this heavenly dessert.
I tip my imaginary hat to Donna and Stacey (the mother and daughter who run the company) for allowing me to experience toffee in its divine form. Thank You!