After months of parking in Boston's historic snowdrifts, we made an escape to the beautiful harbor hamlet of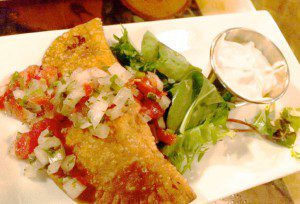 Scituate, about 20 miles south to enjoy dinner at Galley Restaurant.
This packed neighborly-vibe restaurant has slanted wood boards, tin ceilings and big open windows that invite the seaside air inside on warmer days. Galley offers small tapas dishes, friendly service and is cornered by an open raw bar where diners can watch chefs shuck the bivalves.
For an oyster aficionado, the fresh arrangement of mollusks from Copps Island, Duxbury and Kusshi topped with homemade vinegar of pink peppercorn white balsamic did not disappoint ( market price 6 for $14.25). The finely chopped shrimp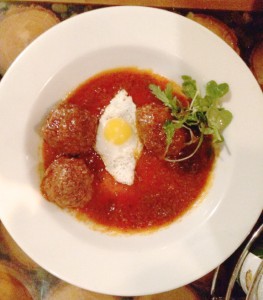 and calamari ceviche was a stand out, served in a sweet watermelon and lime juice dressing ($12).
Galley is not limited to seafood, it also has a flair for Spanish and Asian dishes. The three lamb meatballs ($10) were served with an open quail egg in a warm smoked harissa sauce that made me try the second and third time. The large buttery empanada ($7) comes filled with a blend of chorizo sausage, manchego cheese and potato, with an accompanying pink sour cream that needed more complexity. The two crispy duck drumettes ($8) were irresistibly tender, deep fried to mahogany and served with a spicy Thai chili glaze atop lettuce.
Galley has an extensive local beer list. Its cocktails are masterful, having sampled the sensational whiskey sour crafted with egg whites for a creamy finish ($12).
Galley is a great place to meet friends, dine and enjoy the coastal views.