New York City, April 6, 2010 — At a celebration this week at The Four Seasons Restaurant, Food & Wine Editor in Chief Dana Cowin announced the magazine's Food & Wine Best New Chefs (BNC) of 2010.
The annual award, launched in 1988, recognizes up-and-coming chefs with an innovative style and a distinctive vision creating exceptionally delicious food.
"This year we have one of the most exciting rosters of Best New Chefs ever," Cowin says. "They represent every frontier of cooking in America today, from an avant-garde chef in a remote area of Virginia to the mastermind behind the Korean taco-truck boom in Los Angeles. The future of cooking in this country is in excellent hands."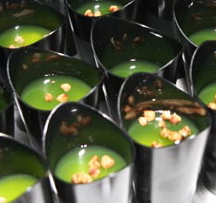 The party was food-star studded with many of them doing the cooking. Someone said there was a Sarah Jessica Parker sighting , but I never bumped into her. I did, though, chat with chef Jason Stratton of Spinasse, Seattle, WA, who said his life has been a wonderful whirlwind since he received the call that he had been chosen.
Chefs who cooked included alumni F&W Best New Chefs Andrew Carmellini of Locanda Verde ('00), Paul Liebrandt of Corton ('09), Daniel Humm of Eleven Madison Park ('05), Dan Silverman of The Standard Grill ('97) and Gabriel Kreuther of The Modern ('03) created signature dishes.  Also, Top Chef season 6 winner Michael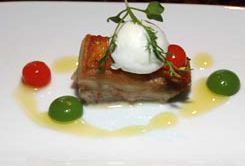 Voltaggio prepared tastings for the celebration.
Some of my favorites of the evening included a pomegranate scallop ceviche served in a mini martini glass, Paul Liebrandt's airy cucumber gel topped foie gras chantilly and Gabriel Kreuther's beer-braised pork belly with turnip choucroute and ginger jus.

The 2010 Food & Wine  Best New Chefs
* Roy Choi Kogi BBQ truck, Los Angeles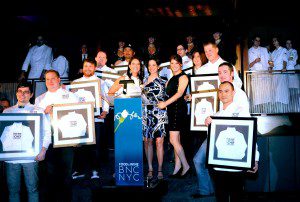 * Matt Lightner Castagna, Portland, OR
* Clayton Miller Trummer's on Main, Clifton, VA
* Missy Robbins A Voce, New York City
* Jonathon Sawyer The Greenhouse Tavern, Cleveland, OH
* Alex Seidel Fruition, Denver
* Mike Sheerin Blackbird, Chicago
* John Shields Town House, Chilhowie, VA
* Jason Stratton Spinasse, Seattle, WA
* James Syhabout Commis, Oakland, CA
These 2010 winners will be featured in the July issue of Food & Wine and will travel to Colorado for the 28th annual Food & Wine Classic in Aspen, June 18 to 20.
– bonnie