We've adapted this soup recipe from Melissa's new cookbook DYP's: the perfect everyday potato cookbook.  Take a chance before February 28, 2015, to win this cookbook and a bag of Dutch Yellow Potatoes in our FREEBIE section.
Dutch Yellow Potatoes and Leek Soup
1 1/2 cups diced regular or Dutch Yellow Potatoes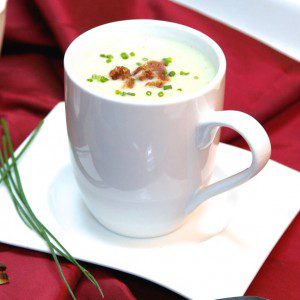 2 tablespoons butter
2 leeks sliced lengthwise, then cut crosswise into 1-inch pieces
3/4 teaspoon sea salt
2 cups water
2 cups vegetable or chicken broth, plus additional for thinning
White pepper, to taste
3 slices thick cut bacon, cooked and crumbled
Place the potatoes in a bowl and cover with water to prevent discoloration.
Set a large stock pot over low heat and add the butter. Add the leeks and cook, stirring occasionally, until softened. Drain, then add the potatoes along with the water, broth, salt and pepper. Increase the heat to high,  bring to a boil, cover and then reduce the heat to a simmer. Cook for 30 minutes, or until potatoes are very soft.
Pour the soup mixture into a blender, in batches if needed, and puree. Return to pan. Add broth to make soup consistency. Continue to cook over low heat until heated thoroughly..
Serve in individual bowls topped with crumbled bacon.
Makes 6 servings.