Melissa's new cookbook is devoted to one fresh ingredient — the Dutch Yellow Potato (DYP). The DYP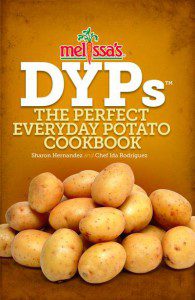 has a creamy texture, buttery flavor and year round availability. The cookbook contains 154 seasonal recipes.
Take a chance to win this FREEBIE, which ends midnight  Saturday, February 28, 2015, EST when one (1) luck winner will be selected at random to win Melissa's DYPs The Perfect Everyday Potato Cookbook along with a 24-ounce bag of Dutch yellow potatoes. Prize value: ~$25.00.
FREEBIE is open only to legal U.S. residents.
TO WIN: Post a comment with the name of your favorite potato recipe. Be sure your email address is listed correctly so we can obtain you shipping address–should you win the prize.
View Offer