Ultragrain provides the best of both worlds – it's the all-natural 100% whole wheat flour that combines the nutritional benefits of whole grains with the taste, texture and appearance of white flour. Made from selected white wheat and milled to the same texture as white flour, Ultragrain makes it easy add whole grain nutrition to everyday recipes your whole family will love. Two Ultragrain brand flours are now available.
- Ultragrain All Purpose Flour — only all-purpose flour that gives you 30% whole grain nutrition and white flour appeal wit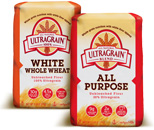 hout adjusting your recipes. Used cup-for-cup replacement in any recipe calling for all-purpose flour. Each 1/4 cup provides 9 grams whole grain.
- Ultragrain 100% White Whole Wheat Flour is 100% whole grain. Use in recipes calling for whole wheat flour. Each 1/4 cup provides 30 grams of whole grain.
Each month, 5 winners will be chosen at random to receive either a 5 pound bag of the award-winning Ultragrain All Purpose Flour or Ultragrain 100% White Whole Wheat Flour.
Only available in the U.S.
You need to enter each month for a chance to win!
To enter, just click the "Take a Chance" link — a link that you'll see only if you're signed in as a registered user.
For more information about this flour visit http://www.ultragrain.com
Ultragrain Brand Flours are formerly Eagle Mills Brand Flour made with Ultragrain.
View Offer