Anne Thornton is the latest 'chef' to join Food Network's TV roster.   Her show, "Dessert First with Anne Thornton" is set to premiere in October but you can get a sneak peek at one of her tasty desserts right now!
Check out Anne's highly acclaimed Salted Caramel Banana Pudding Pie.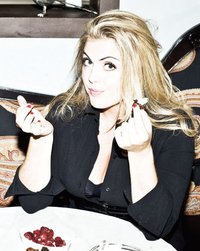 Crust
1 box Nilla Wafers (85 cookies)
6 tablespoons butter, melted
Preheat oven to 350° F. Finely crush 65 vanilla wafers in a plastic bag with a rolling pin or use a food processor. Reserve about ¼ cup of the crumbs to top the pie. Mix together crushed vanilla wafers and melted butter until blended. Firmly press on the bottom, up sides, and onto lip of a buttered 9-inch pie plate. Bake for about 12 minutes, or until lightly browned. Remove from oven and place on a wire rack, and allow to completely cool (about 30 minutes).
Vanilla Pudding
3/4 cup sugar
1/3 cup all-purpose flour
2 large eggs
4 egg yolks
2 cups milk
2 teaspoons vanilla extract
In a large bowl whisk together the sugar and the flour. Once it is a fine powder whisk in eggs and egg yolks, continue whisking until a smooth paste is formed. Slowly whisk in one cup of milk, once it is full incorporated whisk in the
remaining cup of milk. Transfer to a heavy bottom sauce pan, cook on medium heat. Whisking constantly cook for 10-15 minutes, or until it reaches the thickness of chilled pudding. When it is ready the pudding will begin to bubble and will be thick enough to hold soft peaks when whisk is lifted. Remove from heat, and stir in vanilla.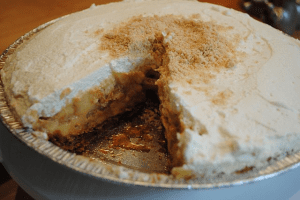 The Pie
3 large ripe bananas (sliced like coins)
1 cup caramel sauce
1 teaspoon fleur de sel
1 recipe vanilla pudding
1 cup heavy cream
2 tablespoons confectioners' sugar
½ teaspoon Almond Extract
In a large bowl mix one cup of caramel sauce and 1 teaspoon fleur de sel, add bananas and stir until bananas are coated in salted caramel. Arrange ½ of the banana slices evenly over bottom of crust. Spread half of hot vanilla pudding filling over the bananas, with 20 full vanilla wafers on top of the pudding. Cover vanilla wafers with the remaining banana and salted caramel mixture and spread the remaining vanilla pudding on top. Refrigerate for 2 hours.
In a large bowl, whip cream until stiff peaks are just about to form. Whip in almond extract and sugar until peaks form. Make sure not to whip, cream will then become lumpy and butter-like. Spread over the pie and garnish with caramel swirl and Vanilla Wafer Crumbs.