I'm fortunate to say that my travels through Europe have been extensive. As a person with a genuine love of skiing and mountain towns (I used to live in Park City),  I lamentably had never had the opportunity to ski Europe's famed Alps, that was at least before this past holiday season when I had the memorable chance to do so for the first time!
A short trip schedule meant we had only 2-days of skiing (and 2-nights of dining) to enjoy, so our agenda needed to be tightly planned. We embarked on an extensive search for the best Alps skiing experience that could be accomplished with limited time. After Googling every possible ski area and asking anyone who had ever been there, we settled on a what seemed to be the overwhelming fan-favorite, the town of Chamonix.
Chamonix is one of the more famous ski towns of the Alps. Most revered for hosting the first Winter Olympics in 1924, Chamonix is still a major hub for a great European skiing adventure. The town lays claim to multiple lifts within a quick bus ride and also provides access to one of the world's most famous off-piste runs, the Vallee Blanche descending from Mont Blanc. Best of all? It's a real town, a living village deep in the Alps, with all the amenities of a large tourist destination and all the charm of French living. We were excited. With amazing assistance from the Chamonix Tourist Office, we planned our time well and could not have been happier with our Alps experience.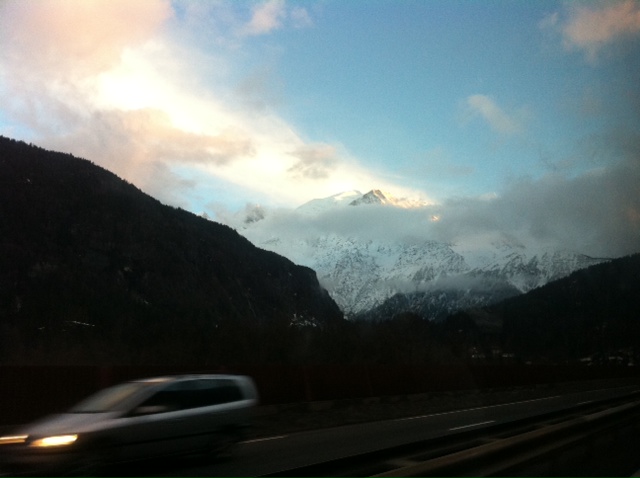 A Day in Chamonix:
Flight: London to Geneva
Getting to Chamonix couldn't be easier, a true up and down flight. Take off, eat a cheese sandwich and a chocolate bar compliments of SwissAir, land. The return flight is even better, as you gain almost the entire flight time back with the time zone change. We didn't want to hassle with a rental car, not knowing the area at all, so we decided to go with a transfer service instead. We were very happy we did! Mountain Drop-Offs allowed us to pre-arrange our pick-up online, to be met at Geneva airport timed with my flight's arrival. We were then dropped off right at our hotel, with a similar pick-up planned for the reverse fixture when we were done with our vacation. Smooth process, friendly drivers with great local advice, same price as renting a car. When you realize you don't need one in town. as you can walk or bus everywhere, it's the perfect solution.
Accommodations
A little late in the planning, and traveling over the holidays, we went with what was available and within budget. Accommodations vary dramatically, from entire chalet rentals further from town, to modest hotel rooms within. We were only looking for a place to crash, but that being said, also tried to get as close to town center as possible. We scored! The Hotel Gustavia ended up being the perfect spot for our needs. Simple and Swedish, the hotel is part of the Langley chain and offers one of the best apres-ski bar environments in town. A great restaurant with live music and only a 2min walk to city center, a 5min walk to the bus stop, and a 10 second walk to a ski rental shop next door! It's the perfect location for a quick Chamonix stay. We had even pre-arranged our ski rentals online before our trip (SkiSet.com) and picked them up right after checking-in.
Dining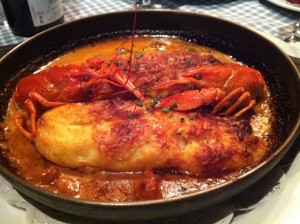 The Chamonix Tourist Office recommended our first night's dining experience. Not knowing the town at all, and almost overwhelmed by the restaurant options, we were very happy for the guidance and we were not led astray. Though tired from a long day of travel (we started in the USA the night prior!), we went for a lovely meal at the rustic Maison Carrier, part of the Hameau Albert hotel grounds. As we entered the small restaurant, we were met with the site of two lamb racks roasting on spits in front of an open fireplace. These were not for show, they were to eat, and the aroma of game, cheese and French wine subtly filled the air throughout the warm, wooden interior. Tired, yes. Excited, more so!
Maison Carrier was everything we could have asked for our introduction to Chamonix dining. Seated, we decided to allow the manager to choose our menu, both food and wine. I find the best way, especially in a foreign country, to sample the best the house has to offer is to let them choose. We began with a small snack for two: housemade pate, cured pork, and goat cheese whipped with peanuts all served with wonderfully warmed French bread. A sumptuous beginning. The house speciality followed; a luscious black pudding served with perfectly sauteed diced potatoes and onions. The simplicity of presentation belied the immensity of taste. Not a dish I would have picked off the menu, but not a dish I would ever miss again!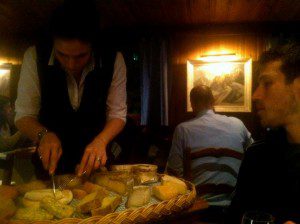 Our main course was pike, ground and shaped into two  quenelles before being crusted, pan fried, and served with crawfish risotto. Rich does not describe, decadent does. A cheese course of a hundred selections followed, with dessert regrettably skipped in lieu of petit fours… all we could eat after such a meal! Paired wines included a local French red (Vin de Savoie, 2010 Arbin Mondeuse) and white (Vin de Savoie, Chignin – Bergeron). This is what French dining is supposed to be… a measured pace, a perfect pairing, wonderful bread, cheese, and wine. Maison Carrier is now part of MY Chamonix and I'd encourage you to make it part of yours as well. A brisk walk back to our hotel before a good night's sleep. Skiing to come in the morning and another day. That however is for another time.
– bryan
Contact Information
TOURIST OFFICE:
Office de tourisme de Chamonix
85, Place du Triangle de l'Amitié, F-74400 Chamonix-Mont-Blanc
Phone:  +33 450 537 560
DINNER:
Maison Carrier
44 Route du Bouchet 74400 Chamonix
http://www.hameaualbert.fr/en
Phone: +33 450 53 00 03
HOTEL:
Hotel Gustavia
272 Avenue Michel Croz, 74400 Chamonix Mont Blanc
http://www.hotelgustavia.eu
Phone: +33-450 530 031
SKI RENTAL:
SkiSet Mercure Centre
39 Rue des Allobroges, 74400 Chamonix-Mont-Blanc
http://www.skiset.co.uk/
Phone: +33 450 53 38 02