Bon Appétit occaisionally rounds up a variety of not-to-be-missed specials from restaurants across the country. And what kind of New Haven born son would I be if I didn't point out a hometown star, Caseus Fromagerie Bistro.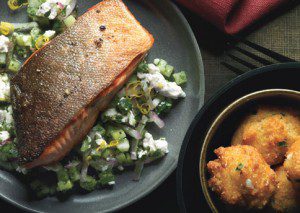 The restaurant was highlighted for their Arctic Char with Cucumber-Feta Relish and Jalapeño-Goat-Cheese Hush Puppies. Bon Appétit said, "Want to grab a bottle of olive oil and lunch? Then stop by Caseus, a cheese shop/bistro combo. The place is named for drained, pressed milk curds—and the folks here do know their cheese. The shop carries more than 100 artisanal varieties, which show up on the bistro menu. In this recipe, goat cheese adds wonderful flavor and texture to spicy hush puppies."
You can read the review at Bonappetit.com or find Caseus Bistro here.
-bryan
The recipe….
Arctic Char with Cucumber-Feta Relish and Jalapeño-Goat-Cheese Hush Puppies
Relish
1 12-ounce cucumber, peeled, seeded, diced (about 1 1/2 cups)
3/4 cup coarsely crumbled sheep's-milk feta cheese (about 3 ounces)
1/2 cup chopped red onion
1/2 cup coarsely chopped fresh Italian parsley
6 tablespoons extra-virgin olive oil
2 tablespoons fresh lemon juice
2 teaspoons finely grated lemon peel
Fish
Four 5- to 6-ounce arctic char fillets with skin
3 tablespoons canola oil
Jalapeño-Goat-Cheese Hush Puppies (click for recipe)
Preparation
Relish
Toss first 7 ingredients in medium bowl. Season relish with salt and freshly ground black pepper. DO AHEAD Can be made 2 hours ahead. Cover and chill.
Fish
Sprinkle fish on both sides with salt and freshly ground pepper. Heat oil in heavy large skillet over medium-high heat. Place fish, skin side down, in skillet. Cook until skin is brown, occasionally flattening with spatula to prevent curling, about 4 minutes. Turn fish over. Cook until just opaque in center, about 1 minute.
Using slotted spoon, mound relish on plates. Top with fish, skin side up. Arrange hush puppies alongside and serve.