Beans have a well-deserved reputation of being the musical fruit–that is, unless you eat them regularly.
The following recipes using cannellini beans are from by "Beans" cookbook and were originally posted on a review of Progresso cannellini beans here.
I'm just posting them again for you in our recipe section!
Pizza Provençal. Yes, a white bean pizza. Just mash 1 ½ cups cannellini beans (rinsed and drained), 2 minced garlic cloves and a teaspoon olive oil; season with salt and pepper. Spread over a prebaked pizza crust (such as a Boboli, available in supermarkets), top with a thinly sliced tomato, crumbled goat cheese and fresh rosemary. Bake in a 450-degree oven for 8 to 10 minutes until the cheese melts.
Or, for a slightly different Pizza Provençal-2, top the mashed beans on the pizza with some pesto, thinly sliced tomatoes and grated Parmesan cheese.
Escarole & Bean Soup. For that I cook some crumbled chorizo (about 1/2 pound) in a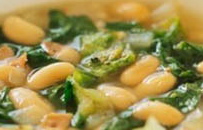 saucepan and add cleaned escarole leaves (about 1 pound), cooking until they wilt. Then I add a can of cannellini beans (half of which I mashed with a fork, as this will help thicken the soup), some chicken broth (about 4 cups), salt, pepper and some red pepper flakes. I simmer to meld the flavors, and serve topped with freshly grated Parmigiano-Reggiano. As with all soups, it's even better the next day.
Herbed Pasta and Beans (pictured below) is adapted from the folks at Progresso; it takes about 25 minutes to prepare and serves 4. Cook 2 cups rainbow rotini (spiral pasta) as directed on package, adding 1 can drained and rinsed cannellini beans during last minute of cooking time. Cook until rotini is tender; drain.
While the pasta is cooking, combine 2 seeded and chopped tomatoes, 2 tablespoons each fresh chopped chives, minced parley, extra virgin olive oil and capers, 1/4 teaspoon salt and some freshly ground black pepper in a large bowl. Add the drained rotini and beans; toss gently to combine. Add 1/2 cup shredded fresh Parmesan cheese; toss gently and serve, adding, if desired, additional chives or parsley.
– bonnie