PAST BITE
August 1, 2007
What it is: Canned ready-to-eat cannellini beans
How it comes: 15-ounce can and 19-ounce can
Where it is: In the canned bean or vegetable aisle of your supermarket
Who it's for: Anyone who wants to eat beans, but doesn't have the time to reconstitute dried
Suggested retail price: $0.89; $0.99
Nutrition notes: Like most beans, these are a nutritional powerhouse, a 1/2 cup has 130 calories, 8 grams protein, 6 grams fiber, plus calcium, iron and other minerals (You can reduce the 340 milligrams of sodium by rinsing them before using.)
Category: Fabulous Food: The pantry


---
Bonnie: When testing recipes for my cookbooks, I learned that if I invited people ahead of time for sampling, they considered it a dinner party and expected all that the name implied.
I just needed people to eat. Desperately.
In the early '90s, at the time I was writing Beans, neither Bryan nor Eric ate these nutritious little morsels. Since I needed to test and retest my recipes and didn't want to waste any food, I came up with a plan.
At about 5 pm I would pick up the phone and begin calling friends to see who was available that evening.
"Can you come for a bean tasting in about an hour?" I'd ask. "Yes, the kids too – that is if they eat beans."
I'd keep calling until I had enough people to help sample all the dishes I was testing.
Beans have a well-deserved reputation of being the musical fruit–that is, unless you eat them regularly. Seriously, the more often you eat beans, the less gas you'll have. Knowing that my arriving guest couldn't possibly be consuming as many beans as I was, I put little bottles of Beano (the anti-flatulence food enzyme) on the dining room table right beside the serving bowls full of various renditions of beans.
Those evenings always ended up with quite an eclectic mix of friends around the table—chatting, sampling and voicing their opinions on what they were eating.
Those who didn't love beans as I did preferred the dishes made with cannellini beans, the white-colored oval beans with a nutty flavor and smooth texture, also called white kidney beans or haricot blanc. As beans go, they're a good place to start.
One unusual and quick use for cannellini beans is Pizza Provençal. Yes, a white bean pizza. Just mash 1 ½ cups cannellini beans (rinsed and drained), 2 minced garlic cloves and a teaspoon olive oil; season with salt and pepper. Spread over a prebaked pizza crust (such as a Boboli, available in supermarkets), top with a thinly sliced tomato, crumbled goat cheese and fresh rosemary. Bake in a 450-degree oven for 8 to 10 minutes until the cheese melts.
Or, for a slightly different Pizza Provençal-2, top the mashed beans on the pizza with some pesto, thinly sliced tomatoes and grated Parmesan cheese.
Another quick favorite is Escarole & Bean Soup. For that I cook some crumbled chorizo (about 1/2 pound) in a saucepan and add cleaned escarole leaves (about 1 pound), cooking until they wilt. Then I add a can of cannellini beans (half of which I mashed with a fork, as this will help thicken the soup), some chicken broth (about 4 cups), salt, pepper and some red pepper flakes. I simmer to meld the flavors, and serve topped with freshly grated Parmigiano-Reggiano. As with all soups, it's even better the next day.
Herbed Pasta and Beans (pictured below) is adapted from the folks at Progresso; it takes about 25 minutes to prepare and serves 4. Cook 2 cups rainbow rotini (spiral pasta) as directed on package, adding 1 can drained and rinsed cannellini beans during last minute of cooking time. Cook until rotini is tender; drain.
While the pasta is cooking, combine 2 seeded and chopped tomatoes, 2 tablespoons each fresh chopped chives, minced parley, extra virgin olive oil and capers, 1/4 teaspoon salt and some freshly ground black pepper in a large bowl. Add the drained rotini and beans; toss gently to combine. Add 1/2 cup shredded fresh Parmesan cheese; toss gently and serve, adding, if desired, additional chives or parsley.
Bryan: I have not thought about a white bean pizza in a long time, but they are fantastic! If you have not tried one, this is a MUST; both the pesto and white versions of the pie are truly delicious and incredibly simple to make. Add a small spinach or tossed greens salad with a light vinaigrette for a great summer meal. Cannellini beans have a smooth texture and subtle flavor that is different from many other types of bean. Progresso continues to put out quality canned products and this one is no different. Once you've tried the pizzas, move on to more complicated recipes and you'll likely discover that you enjoy beans far more than you thought. (Eric and I learned this lesson through three separate cookbook developments, Beans, Rice and Grains!)
Eric: There are a few non-fond memories of food that stay with me to date:
1. The first (2nd & 3rd) time I ate scallops
2. Eating sweetbreads at a young age and not knowing their origin
3. The year my mother wrote her damn Beans book
Let's get one thing straight. My mother is a great cook and has created and tested a ridiculous number of recipes, but the year of that bean book turned me into a lifetime member of the carnivores. She tried to trick me, and of course Bryan (who was probably one of the pickiest eaters I knew at the time) into eating the cannelinni beans, and she did quite a good job. Both of them rave about the pizza, but my vote stays with the escarole and bean soup. The spiciness of the chorizo combined with the texture of the white beans creates an amazing taste, and, as my mother suggests, eating it the next day (I suggest draining the broth and throwing it on some fresh pasta) is even better. Since the days of cookbook testing I have developed a tolerance for every food imaginable but still just can't get over those damn scallops.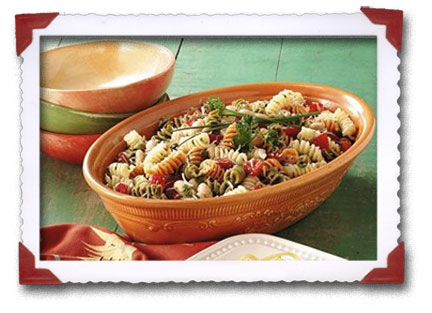 THIS WEEK ONLY 2 lucky winners will be chosen at random to receive a case of twelve 19-ounce cans of Progresso Cannellini Beans. (Take a Chance)
34 Comments on "Progresso Cannellini Beans"
Diane Says:


I've been using Progresso beans for years, particularly the cannelinis. I do admit, though, when I make my escarole and beans, I prefer Italian sausage to chorizo, and a few oil-cured olives, with a few shakes of red pepper flakes as well.

Bonnie Tandy Leblang Says:


Italian sausage is also delicious with escarole and cannellini beans. I just enjoy the spiciness of real Spanish chorizo!

Anne Mahoney Says:


The Cannolini beans can used to have a recipe for simple pasta fagiole-now I can't find it -anyone have it?

Bonnie Tandy Leblang Says:


Anne, I contacted Progresso about this. The following is the recipe from their files — although they couldn't verify it was on the package. Hope this is what you're looking for:

Fagioli Pasta
8 oz. (3 cups) uncooked rigatoni (pasta tubes with ridges)
2 tablespoons olive oil
1/2 cup chopped onion
1 large carrot, finely chopped (1 cup)
1 garlic clove, minced
1 (19-oz.) can Progresso® Cannellini Beans, drained, rinsed
1 (14.5-oz.) can diced tomatoes, undrained
1 tablespoon chopped fresh parsley or 1 teaspoon dried parsley flakes
1/2 teaspoon salt
Dash pepper

Cook rigatoni to desired doneness as directed on package. Drain.
Meanwhile, heat oil in large saucepan over medium-high heat until hot. Add onion, carrot and garlic; cook 5 to 6 minutes or until tender.

Add all remaining ingredients except rigatoni. Reduce heat to medium-low; simmer 5 minutes or until thoroughly heated. Serve over cooked rigatoni.

4 servings

1/4 of Recipe: Calories 420 (Calories from Fat 70); Total Fat 8g (Saturated Fat 1g); Sodium 650mg; Total Carbohydrate 73g (Dietary Fiber 9g); Protein 14g

Exchanges: 4 1/2 Starch, 4 1/2 Other Carbohydrate, 1 Vegetable, 1 Fat

Deborah Lofredo Says:


The soup recipe I am looking for was I think called Tuscan minestrone. It had a combination of white beans and black beans with carrots onions and celery and broth. I just need the amounts. Anyone?

Sue R Says:


Where can I find canned cannellini beans in my area?
My zip is 39401.
Thanks

Lindsey Says:


This is in response to Sue R.

I work for General Mills Consumer Services, and we were made aware of your post!

Unfortunately I was unable to locate any store within 50 miles of your ZIP code that carries the Progresso Cannellini Beans. You can, however, order these beans from General Mills' "Hard to Find Products" web site, http://generalmills.elsstore.com/ .

For other users, we offer an online product locator, which you may find helpful in finding Progresso products in your area. Please visit our corporate web site at http://www.generalmills.com and select "Brands", then "Product Locator" on the left side of the screen to utilize this feature.

Additionally, while we don′t have any involvement with the fulfillment of groceries through Amazon.com, they do have some of our products available for direct purchase and shipment (including APO′s).

I hope this information is helpful!

mario stuppiello Says:


I would like to purcase 1 case of cannanella beans. Price and how to order.

Bonnie Tandy Leblang Says:


Mario, sorry to say that we don't sell anything on this site; we just review and recommend products that we feel are worth sharing!

JACK C Says:


WHY CAN'T I GET POGRESSO CANNELLINI BEENS IN PUBLICS STORE WHEN I WAS BUYING THERE FOR YEARS. IN ocala fl

Bonnie Tandy Leblang Says:


Jack, I'd suggest you first speak to your store manager. They actually do listen to consumer's requests. If they had them before, it might be easy for them to again carry them. In the meantime, I'll ask the folks at Progresso to let you know where you can find the beans in Ocala, Fl

james Says:


I have not been able to find them for weeks. I have looked in several large stores here in Staten Island NY. Its strange, did they discontinue them?

Bob Dunegan Says:


Is there a shortage of cannellini beans? Harris-Teeter grocery stores in Charlotte (and also Bi-Lo) have been out of Progresso Cannellini beans for three weeks.

Can you suggest a source in the Charlotte area. But mostly, why would H-T stores not stock them? Store personnel say they simply don't know. We're frustrated Tuscans (bean eaters)!

Bob Dunegan

gerry bertag Says:


Unable to find progresso cannelli beans in any supermarket in connecticut. What,s the story???

gerry bertag Says:


not in stores

Donna Dambrosio Says:


WHY IS THERE NO PROGRESSO CANNELINI BEANS IN ANY OF THE SUPERMARKETS IN THIS AREA. i TALKED TO A MANAGER OF ONE OF THE STORES AND HE SAID THAT THEY ORDER THEM BUT PROGRESSO IS JUST NOT DELIVERING THEM. PROGRESSO BEANS ARE THE BEST. WHEN ARE WE GOING TO BE ABLE TO PURCHASE THEM. THANK YOU

Frances Coritz Says:


I love your Beans for all of my traditional Italian dishes but I live in Flunna County Va. and I cannot find them here. Guess not enough Italians.. Help Me

General Mills Consumer Services Says:


Thank you for your interest in our Progresso Cannellini Beans. As you may have noticed we have had a bit of problem recently with supplying our grocery chains with these great beans. Let me first apologize for that and to let you know what has happened. Due to a recent crop shortage we have been unable to keep up with production demands and that has led to the recent availability problems you are experiencing. The good news is we now have enough beans to start production once again. You should start seeing Progresso Cannellini Beans on your store shelves in early January. Go ahead and tell your store manager to put there order in now. Thanks again for your interest. Mike Grant, Progresso Brands Product Specialist, General Mills, Inc.

Jeanetta Brancaccio Says:


Cannot find the cannalini beans in any of our local markets. have they been discontinued?

Bob Dunegan Says:


Because of the tanking economy, we have been trying to plan a "Po Folks" dinner built around Tuscan Bean Stew. Now you're telling us that we can't plan on having Progresso (the ONLY GOOD cannellini beans) until January. By that time the economy might have improved so that no one will come … they'll expect tenderloin not knowing how delicious my wife's Tuscan Bean Stew can be. And everyone will be trying to lose their Christmas season pounds. This is a CRISIS. to were tryiing to pal

Bob Dunegan Says:


Because of the tanking economy, we have been trying to plan a "Po Folks" dinner built around Tuscan Bean Stew. Now you're telling us that we can't plan on having Progresso (the ONLY GOOD cannellini beans) until January. By that time the economy might have improved so that no one will come … they'll expect tenderloin not knowing how delicious my wife's Tuscan Bean Stew can be. And everyone will be trying to lose their Christmas season pounds. This is a CRISIS. If you don't come up with an alternative solution, we may have to resort to pinto beans!
I bet you could get them to ship some from San Gimignano!

Desperate in Charlotte

Susan Says:


I thought it was just me not being able to find the cannellini beans so glad to hear it is a situation that will be corrected soon. MY minestoni soup will be missing the cannellini beans. ikes….

Marguerite Says:


I consider myself pretty good at looking and finding things on shelves. When I could not locate Progresso cannellini beans on the store shelves at ALL my local grocery stores, I was starting to think I was having a health issue. My curiosity of this "cannellini crisis" led me to this website. It all makes sense now. But I am VERY SAD! Even if I have the choice of another brand for this wonderful bean, I reluctantly purchase it. I plan to purchase a case of these beans, if possible, via the internet. Maybe this is a good thing – perhaps the cost by the case will be better than the grocery store price???

General Mills – Thank you for your superior cannellini bean and know that there are many faithful consumers who really do count on you to provide this product to us.

Linda Says:


I love cooking with Progresso Cannellini beans and have found a few tasty dishes with them. I especially like soup recipes and that is how I found this website. Look forward to your recipes.

Food and Product Reviews – Melissa's Steamed Blackeyed Peas – Food Blog | Bite of the Best Says:


[...] using beans in every possible way — including white bean ice milk! And during that time, I had bean-tasting parties to sample the foods that I was testing. I needed testers as oddly at that time — in the early [...]

patricia frederickson Says:


I have been looking for cannellini beans for weeks where can you buy them in riverside california

Janie B Reynolds Says:


I'm looking for a soup recipe I used to find on the back of Progresso Cannellini beans. It was called Tuscan Bean Soup and included cannellini beans, black beans, kidney beans, carrots, onions, garlic & celery. Could you please send me that recipe? Thank you.

Pam Becker Says:


Someone was looking for a Tuscan Bean Soup recipe that appeared on the back of the Progresso Cannellini Beans. Unfortunately, we her on the Progresso team could not find that in our recipe files. Possible, it was "misplaced" when General Mills acquired Progresso a few years ago. Can I suggest this recipe for Tuscan Bean Soup developed by chef Michael Chiarello as a possible substitute? It's very good.

TUSCAN BEAN SOUP

Ingredients:
4 slices bacon, finely chopped
1 medium yellow onion, quartered lengthwise
1 medium stalk celery, quartered crosswise
1 medium carrot, quartered crosswise
2 cloves garlic, lightly crushed
3 cans (19 oz each) Progresso® cannellini beans, drained
1 dried bay leaf
1/2 cup white wine
1 carton (32 oz) Progresso® reduced-sodium chicken broth (4 cups)
2 tablespoons olive oil
1 tablespoon finely chopped garlic
1/4 to 1/2 teaspoon crushed red pepper flakes
1/4 cup lightly packed fresh basil leaves, sliced
1/2 teaspoon gray sea salt
1/8 teaspoon freshly ground pepper
Directions:
In 4-quart saucepan or Dutch oven, cook bacon, onion, celery, carrot and 2 cloves garlic over medium-high heat 5 minutes, stirring occasionally. Reduce heat to medium. Add beans, bay leaf, wine and broth; cover and cook 20 to 25 minutes, stirring occasionally, until vegetables are tender. Remove from heat; cool about 15 minutes.
In 4-quart saucepan or Dutch oven, cook bacon, onion, celery, carrot and 2 cloves garlic over medium-high heat 5 minutes, stirring occasionally. Reduce heat to medium. Add beans, bay leaf, wine and broth; cover and cook 20 to 25 minutes, stirring occasionally, until vegetables are tender. Remove from heat; cool about 15 minutes.
Remove bay leaf from bean mixture. Pour mixture into food processor; cover and puree. Return to saucepan; stir in salt and pepper. Simmer over medium heat 5 to 10 minutes, stirring frequently, until thoroughly heated.
Ladle soup into individual soup bowls. Top each with basil mixture.
6 servings (1 cup each)

1 Serving: Calories 390 (Calories from Fat 70); Total Fat 8g (Saturated Fat 1.5g, Trans Fat 0g); Cholesterol 5mg; Sodium 1320mg; Total Carbohydrate 55g (Dietary Fiber 13g, Sugars 3g); Protein 24g
% Daily Value: Vitamin A 35%; Vitamin C 2%; Calcium 20%; Iron 45%
Exchanges: 3 1/2 Starch, 2 Lean Meat
Carbohydrate Choices: 3 1/2

2009 © and ®/™ of General Mills © 2009 NapaStyle Inc.

Food, Product Reviews & Recipes – Cannellini Bean Recipes – Food Blog | Bite of the Best Says:


[...] The following recipes using cannellini beans are from by "Beans" cookbook and were originally posted on a review of Progresso cannellini beans here. [...]

Bonnie from BiteoftheBest.com Says:


Wanted to share with this group that more cannellini recipes were just posted at http://www.biteofthebest.com/cannellini-bean-recipes/

Jean Says:


Thank you, Bonnie. I will definitely try these!

Sandra Says:


Bought the cannellini beans for the second time. They are so undercooked that they actually have a crunch to them. Called the company and they said that they will send me certificates for replacement. Why? It is the second time, same result. Keep your certificate. Now I am going to throw away my $7.00 soup. Progresso, give it up.

Zeni P. Says:


Have loved Progresso Cannellini beans for a long time. Last night we made the same Tuscan Beans recipe we always do with Italian sausage, but it was ruined b/c the darned beans were so undercooked they were crunchy! I am not accustomed to tasting canned beans before I add them to a recipe, but I am going to start. Beans were bought recently in the Kansas City metro area. I will contact Progresso personally when I get time.

Bonnie from BiteoftheBest.com Says:


Zeni, Thanks for your comment. I do suggest you call Progresso, as they're always receptive to comments and want to know when things are wrong. If you still have the can – save (or photograph) the numbers on it – to will help them figure out what went wrong and at what facility. And I'm sure they'll refund your money!
Rate This Product
Mouseover the crowns to highlight your rating and then click to record your rating. The rating shown is the average of all the user votes. You can only rate each product once.
Leave a Comment or Write a Review
Posting Policy
Bite of the Best encourages our readers to comment on and review any products that we write about. Please express your opinions in a mature and civil tone of voice. We will not post rude or otherwise inappropriate material on Bite of the Best. We look forward to your comments and reviews!