You can stop in at Caffe Storico after visiting the New-York Historical Society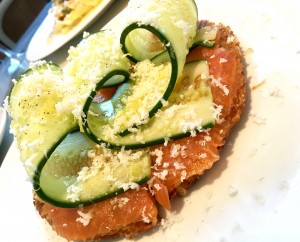 on the Upper West Side, but I'm suggesting it as a dining destination. Yup — the food and service is that good a this Venetian-inspired bright and airy cafe.
We stopped by recently while on a stroll through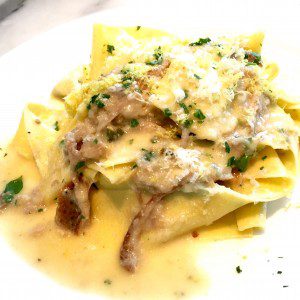 Central Park. I would recommend both dishes that we shared:  an unusual pappardelle ($19) — wide hand-cut pasta ribbons — with pork  shoulder (that had been braised in milk)  in a light and creamy sauce.
Their raffinata is an "elegant bagel and lox" (according to our server). It consists of  potato cake crispy on the bottom, topped with smoked salmon, sliced cucumber and yogurt with sprinkled with shredded horseradish ($16).
We washed both down with a blood orange mimosa. Worth the trip.
– bonnie
Caffe Storico
at New York Historical Society, Upper West Side
170 Central Park West New York, NY 10024
(212) 485-9211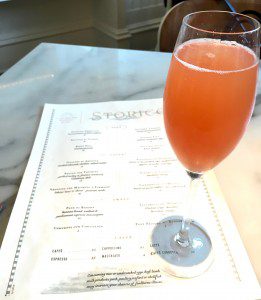 Save