In a recent guest foodie post, Marc Murphy mentioned Caffe Storico as his go-to restaurant, saying, "Don't miss out on the pastas, my favorite is short rib + foie gras agnolotti." So when booking a time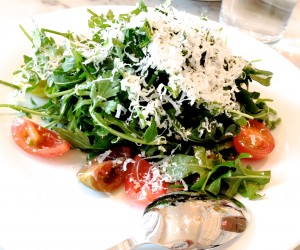 to visit the museum's special "The Armory Show at 100: Modern Art and Revolution" exhibit (running until February 23, 2014), I also booked Caffe Storico.
We sipped the clean, crisp Pinot Bianco, Erste e Neue ($40) '12, Alto Adige while looking over the menu. We started with a refreshing misticanza salad. It's a mixed green salad with arugula and fresh herbs (chervil, parsley, mint), plus flavorful heirloom cherry tomatoes ($13) and ricotta salata all in a delicate white balsami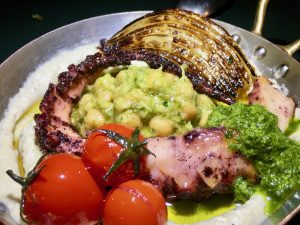 c vinaigrette.
In the interview Marc had raved about the short rib and foie gras agnolotti ($17), which wasn't on the menu at brunch. I reached out to ask the manager whether they might that available to try. Luckily the chef had a portion and agreed to serve it. So glad he did. The little dumplings come stuffed with short ribs and foie gras,  topped with finely diced crunchy carrots, all topped with a Parmesan froth and drizzled with balsamic reduction. Incredibly delicious.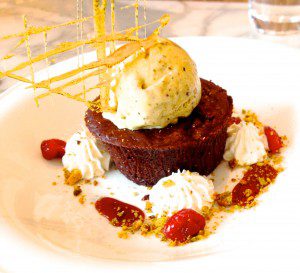 We still had room for the waiter recommended chocolate dessert — the cioccolato al vorno ($9) comes served with pistachio gelato and cherries. I do recommend this decadent chocolate treat even though the creamy pistachio gelato lacks the eponymous flavor. We ended with espresso ($3.50) and limoncello ($10). Perfection!
I highly recommend a visit to Caffe Storico!

– bonnie
Follow @BonnieBOTB

Caffe Storico
at New York Historical Society, Upper West Side
170 Central Park West New York, NY 10024
(212) 485-9211