Though my company's office parties have definitely provided more than a few funny stories over the years, there is one thing in particular that I will always remember from one year's party. Or, more specifically, something that I will never let the office forget A colleague of mine, Alberta, brought her contribution to the annual holiday party.. and appetizer.. buffalo chicken dip.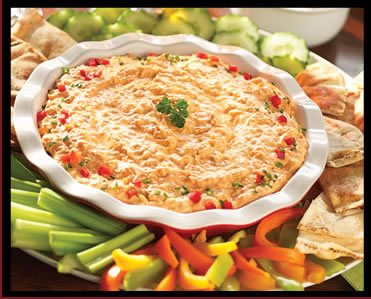 Now, apparently this dish is popular in certain circles, but to my knowledge at that time, is was something completely new! Buffalo chicken dip, if you haven't already guessed, is a dip that is made from (essentially) ground up buffalo chicken. It is divine, it is to die for, it is a rich, fatty, 'try to forget you ate so much of it' treat… And though Alberta is no longer at our holiday parties, I still won't allow an office party to be thrown without the dip's inclusion. Yes, it's that good.
For those of you that have heard of it, well, congratulations. For those of you that haven't heard of it yet.. enjoy this recipe (courtesy of Stewart Caughman).
Buffalo Chicken Dip
2 – 3 (10-ounce) cans chunk chicken, drained
1 – 2 (8-ounce) packages cream cheese, softened
1/2 – 1 c ranch dressing
1/2 – 3/4 c pepper sauce, such as Franks Red Hot
1 1/2 c shredded Cheddar cheese (1/2 c folded in the dip;  1 c on top)
Heat chicken and hot sauce in a skillet over medium heat. Stir in cream cheese and ranch dressing, adding more ranch or cream cheese based on the consistency you prefer. Continue stirring until well blended and warm. Mix in half of the shredded cheese, and transfer the mixture to a slow cooker (or baking dish). Sprinkle the remaining cheese over the top, cover, and cook on low setting until hot and bubbly.
-bryan