The new Boston Public Market is the pride of the city, captures the fresh and local flavors of New England agriculture and requires no reservation.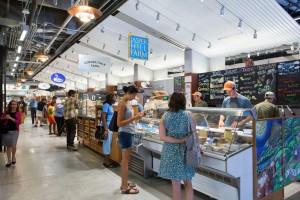 The market is a year-round permanent indoor 28,000 square foot structure that opened in August at 100 Hanover Street,  273 years after Faneuil Hall, Boston's first market opened a block away. The market is wonderful for finding locally sourced farm-fresh products with 38 vendors selling produce, meat and poultry, ice cream, hops, juice, milk, chocolate, coffee and cheese, baked goods, pasta, wine and flowers, including Taza chocolate and George Howell coffee, It's perfect for grazing! There are plenty of attractions to wet the palette including hands-on-cooking demos, lectures, workshops and food tours. Kids are welcomed.
Here are a few booths to check out: Make a salad with Corner Stalk Farm's 19 green varieties and herbs such as Garrison red oakleaf, Salanova green butter, basil and arugula. The farm grows its produce 10 minutes away in East Boston under LED lights inside recycled shipping containers. The produce isn't exposed to any elements and can last two weeks. A small mix is $5; medium $10 and large  $15.
The Wolf Meadow Farm homemade mozzarella is unlike any grocer's product. It is a daily made, smooth ball of sweet and sour milk that's crunchy. The key is the butterfat generated from cows eating grass for the past four months ($18.99 per pound, serves 4-5 persons).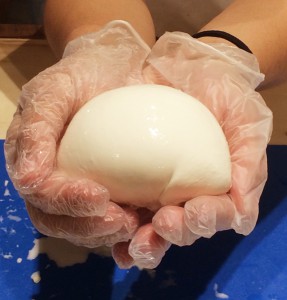 The Boston Smoked Fish Company produces highest quality smoked fish, pates and chowder using sustainably harvested fish, hand-selected from Boston's Fish Pier. I recommend the bluefish hickory-smoked pate for a party appetizer. I prefer mild tasting fish, so I'd pass on the bluefish sub served on a toasted Iggy's bread brioche roll ($9.55), as the fish taste is strong.
Follow the lines and wafting smell of apples to Red Apple Farm and buy apple cider donuts for snacking. These small, fresh and warm delights are made fresh everyday from wheat flour, apples, cinnamon drops, sugar, apple cider and fried quickly in soybean oil  ($4.99 for six donuts).
There are endless choices of nuts at Q's Nuts.  I liked the sea salt chocolate nuts made with almonds and cashews. The nuts are roasted with Taza Chocolate, cinnamon and Madagascar vanilla giving it a balance, and a sweet, subtle chocolate flavor. The nut combination changes daily so ask ahead ($4.50 for a 2.50 oz bag).
The Boston Public Market is open Wednesday- Sunday 8am-8pm. It's a stones throw from the Union Oyster House, North End and is easy to reach via the MBTA's Orange line Haymarket stop. Validated parking in the Haymarket Garage is $3 for three hours with a purchase at the Market.
Boston Public Market
Government Center
100 Hanover Street
Boston, MA 02108
(617) 973-4909
bostonpublicmarket.org
Market photo by Chuck Choi
Save